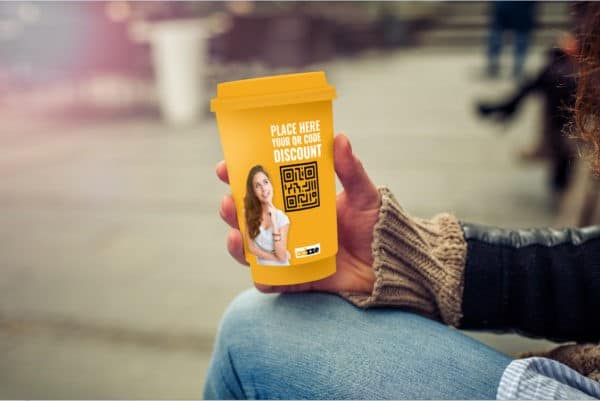 Printed Coasters: Surprise your Consumers with Ads in their Hands
Printed Coasters in a digital context
Despite the popularity of digital advertising, this concept is becoming less targeted, exposed to fraud and limited attention span. Recent studies by the research firm Lumen confirmed that only 9% of digital ads are viewed for more than a second (1). The study has used laptop-mounted eye tracking cameras on 300 consumers' laptops to collect visual data on what they notice when they are online. During the study it were recorded 30,000 minutes of data, with evidence relating to around 15,000 digital ads.
Most of the time, digital ads don't even reach the target audience. Most internet users don't want to be bombarded with ads since it's very annoying to experience an interruption in the otherwise smooth-running browsing process. To get rid of irritating and annoying ads, many internet users use ad blockers.
Printed Coasters: reaching the audience in a relaxing environment
The advertising space is shifting towards a greater emphasis on tactics that generate surprise, humor, creativity and consequently audience engagement. The 'unusualty' raises level of interest in consumer and hence their willingness to expend cognitive effort to process message.
Programs with printed coasters  are very effective. The venue places the coasters on the dining or bar tables generating a direct impact on consumer who receives the message in their hands. This is guaranteed impression, as they have to take the coaster in their hands. Approximately 1,500 coasters/month are distributed by each venue generating  estimated 0.7M of impressions. Printed coasters are viewed by on average 4-6 other people in a relaxing environment enabling your target audience to better assimilate your message.
Coaster Ads is part of the In-the-Hand Advertising framework. This concept relies on placing ads on consumables that the target audience cannot ignore as they have to take them in their hands. Such consumables can be: pharmacy bags, pizza boxes, hotel key cards, coffee cups, door hangers. This framework is also often referred as Ambient Marketing.
Printed Coasters: the costs v.s. traditional billboards
For purpose of comparison, consider the costs of a traditional OOH as benchmark, e.g. Billboards. The costs of billboards depends on format, circulation and demographics. Traditional billboards can cost between $14,000 and 20,000/month in larger markets.
For the same cost, the advertiser can place its message on 40,000 bar or restaurant coasters at 20 different venues during the same time.
Sources:
Lumen Research, 2016. Marketers Continue to Waste Money as Only 9% of digital Ads are viewed more than 1 Second.