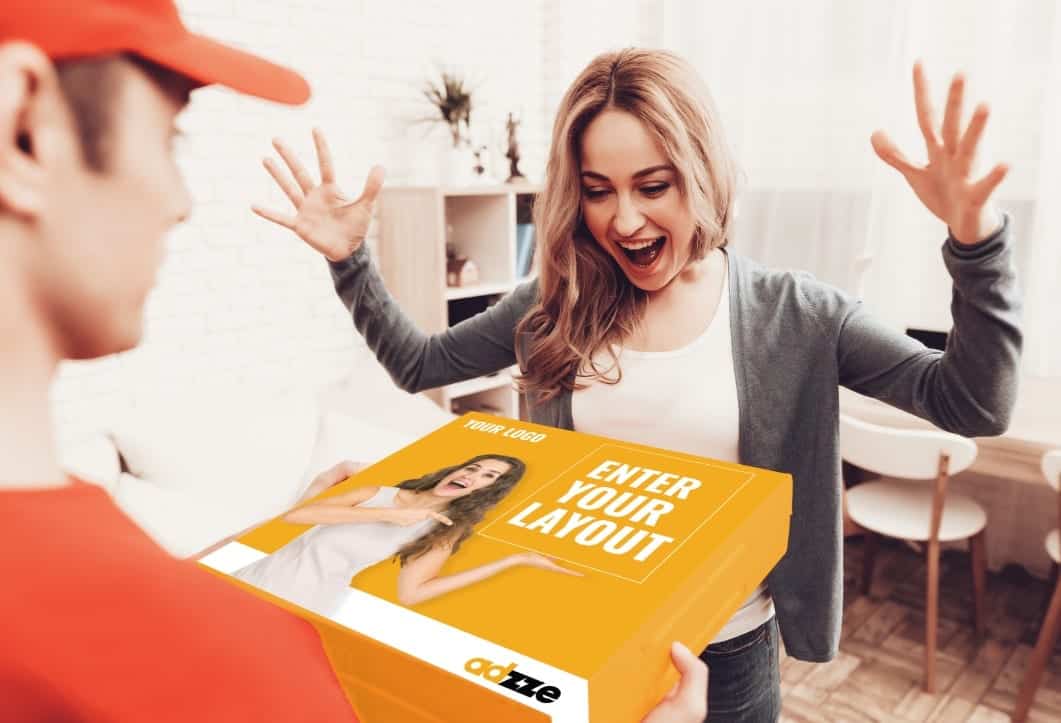 Pizza Box Advertising: Effectively Reach Consumers at Home
Pizza Box Advertising is just one of many types of In-the-Hand Advertising.
This marketing concept is a sub-segment of Ambient Marketing that relies on the placement of advertising in unusual and unexpected places (serving as vehicles) often seen as an unconventional execution and being first or the only ad execution to do so. Ambient media refers to the usage of publicity-grabbing events by utilizing contextual elements of the target groups, and it's been demonstrated by research studies (1,2) to demonstrate better perception and engagement in comparison to traditional media.
How Does Pizza Box Advertising Work?
The logo and messages are printed on pizza boxes (or pizza box toppers) and distributed to the pizza venues you have selected. The venues are nationally-recognized pizza chains so the advertisement usually has an exposure to reputable brands. The pizzerias then deliver the pizza box – and your message! – either into the hands of the consumer or at their homes, realizing on average over 10 to 15 minutes of brand exposure!
Over 3 billion pizzas are sold in the U.S every year, thereby becoming an extremely powerful marketing tool to reach American consumers. Over 83% of pizza stores offer delivery service displaying the custom pizza box with the ad directly on the table of the consumer. Very often the the box with the advertisement is placed in the refrigerator,  allowing for multiple impressions. On average, each pizza venue delivers 2,000 ads per month providing more hours of exposure for less cost than most other ways to advertise.
A quick example: using pizza boxes and/or pizza box-toppers, your message reaches an average of 2.5 people who have contact with the box. They then spend an average of 10 minutes viewing and interacting with your messaging (and forget about if they put the box in the fridge overnight!) So, a campaign of 50,000 boxers/toppers will give you an OUTSTANDING customer contact duration of 1,250,000 minutes or over 20,833 hours!
https://www.pmq.com/packaging-that-delivers
Another advantage (in comparison to traditional OOH) is the possibility to segment the audience and precisely target a specific demographic profile by selecting pizza venues in specific zip codes. It is ideal for new businesses or for existing ones that are opening new locations. Pizza venues can display the advertisement in the neighborhood and raise awareness of the new location.  Additionally, businesses can use coupons to boost sales and track the ROI of the advertising spend.
The unconventional and unexpected nature of this type of advertising enables better perception and assimilation of the message. The brand lift can vary between 60-80%.  This type of advertising is a sub-segment of ambient advertising  that its been proven by research studies (1, 2) to demonstrate better perception and engagement in comparison to traditional OOH.
The costs of billboards depends on format, circulation, demographics, and impressions. Traditional billboards can cost $14,000-20,000/month in larger markets. For the same cost of 1 billboard/month, the advertiser can place its message on over 60,000 pizza boxes in 30 different pizzerias during the same period of time!
Examples of other Viral Marketing Tactics
The concept of In-Hand Ads relies on the placement of advertising in unusual and unexpected places often with unconventional methods and being first or only ad execution to do so. In-the-Hand Advertising is a ramification of Guerrilla advertising and relies on the placement of ads on vehicles that consumers touch at daily basis as: coffee cups, pizza boxes, drink coasters, hotel room key cards, Prescription bags, dry cleaner hangers.
Door Hanger Advertising
The message of the advertiser is printed on door hangers and placed on the doorknob of households. Door Hanger Advertising is an unconventional tactics since the audience do not expect to see the ad in their doorknob.  The households can be targeted and the advertiser has to ensure the right delivery of door hangers to the targeted addresses. Besides affordability, door hangers deliver unmatched visibility for your brand. Assume you are coming from a busy day at work and have to read some emails on the road. At that moment, a door hanger with a beautifully printed message and logo pops into your sight. Can you miss it? Door hangers delivers better audience engagement.
Coffee Sleeve Advertising
The message of the advertiser is printed on coffee sleeves and distributed to coffee shops. Each venue distributes approx. 2,500 coffee cups/month, generating an estimated total of 1.7M impressions For purpose of comparison, consider the costs of a traditional OOH as benchmark, e.g. Billboards. The costs of billboards depend on format, circulation and demographics. Traditional billboards can cost between $14,000 and 20,000/month in larger markets reaching on average 80-100,000 drivers per month. This tactics  places the brand in the hand of consumers Coffee sleeves can be creative tactics for small business and deliver better results than traditional billboards with high recall rates
Pharmacy Bags
Pharmacy Bag Advertising is an outstanding tactic to reach consumers with their minds in healthcare. The advertisement is printed on pharmacy prescription bags and distributed to the stores the advertiser selected. The consumer literally touches the ad and eventually bring it to their home. Pharmacy Bag Advertising creates additional exposure to other viewers since sometimes the consumers place the bags on their table at home. The concept of leveraging prescription bags or pharmacy bags is an effective tool to target healthcare providers since it delivers the message in the hand of consumers
Bar advertising
Often, people visit places of drinking because they are looking to escape the stress of work and family. As such, one can conclude that users find peace in bars. During this period, a person drinking alcohol will be very much interested in a bar coaster with a special message. Usually, people have little to do when drinking. Hence the high probability of them reading and assimilating the message on the coaster. The concept of using coasters is a unconventional tactics that surprises the audience in a relaxing environment delivering a high brand recall
Hotel Advertising
Hotel venues can be targeted. The advertisement cannot be ignored, hotel guests must take the keys (and the Ad) in their hands. Each hotel guests views the ad 6-8 times per day. The average hotel will have 115 rooms and 65% average occupancy rate and 3 nights stay (1). This deliver a total reach of 970 guests per hotel and 0.1M impressions per month. This tactics is an effective tool to reach an affluent audience since it places the ad in the hand of consumers and delivers a high brand recall. For the cost of 30 seconds TV ad (average cost) you can advertise on key cards in 100 different hotels for 1 month delivering you message in the hands of 97,000 consumers.
Be sure to check out the below video for more information, and if you have any questions or would like to place your brand In-the-Hand of consumers, please reach out to Kevin Hicks at

[email protected]

.
Sources:
Luxton, S. What is called Ambient Advertising? Monash University. 2000
Gambetti, R. C. (2010). Ambient Communication: How to Engage Consumers in Urban Touch-Points.    California Management Review, 52(3), 34–51