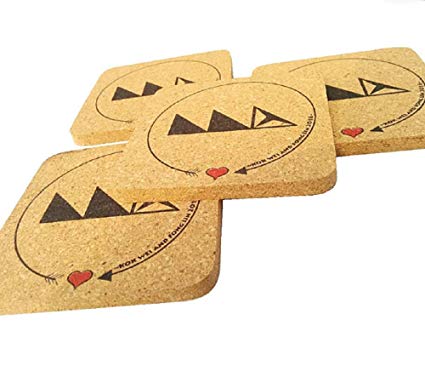 Custom Printed Coasters Are An Unconventional Means Of Creating Brand Awareness
Custom printed coasters: learn more about this concept.
In today's business environment, businesses need to connect with their customers on a personal level. It implies making the customers aware of the brand for the relationship to flourish. As such, businesses are taking advantage of novel advertising avenues like custom-printed coasters. It deepens their market reach.
Why custom printed coasters?
A 2012 Gallup survey established that Americans drink a lot. In the survey, Gallup found out that 66% of the respondents consume alcohol. On average, Americans drink more than four bottles of alcohol in a week, the survey established. Another study, by Statista, determined that approximately 52.85% of Americans drink their alcohol from bars and nightclubs. More than half of alcohol takers in the US visit bars and pubs weekly.
Interestingly, most bars and pubs in the US have coasters for securing beer bottles and glasses. As such, custom printed coasters offer an excellent opportunity to spread awareness of your business. Printed coasters are a unique avenue for advertising, one that is low cost and convenient to utilize. Customizing a single coaster costs a dollar or less. Therefore, an investment of $10,000 could run a massive advertising campaign of distributing branded coasters at pre-selected locations.
Often, people visit places of drinking because they are looking to escape the stress of work and family. As such, one can conclude that users find peace in bars. During this period, a person drinking alcohol will be very much interested in a bar coaster with a special message. Usually, people have little to do when drinking. Hence the high probability of them reading and assimilating the message on the coaster.
Bar advertising: reaching relaxing audience
People are used to seeing ads on the internet, on the TV, or outside on billboards. As such, many have learned to shut the ads out because, frequently, they are a nuisance. Additionally, the target audience is mostly too distracted to notice, let alone read, the messages on billboards. Therefore, the conversion rates that arise from the advertising avenues are unsatisfactory and below potential.
On the contrary, patrons in bars have dedicated custom printed coasters carrying the message from a brand. Interestingly, some patrons might even carry some of the coasters to their homes. Here, the message gets a lot of exposure to the target audience. The longer the exposure, the higher the rates of conversion.