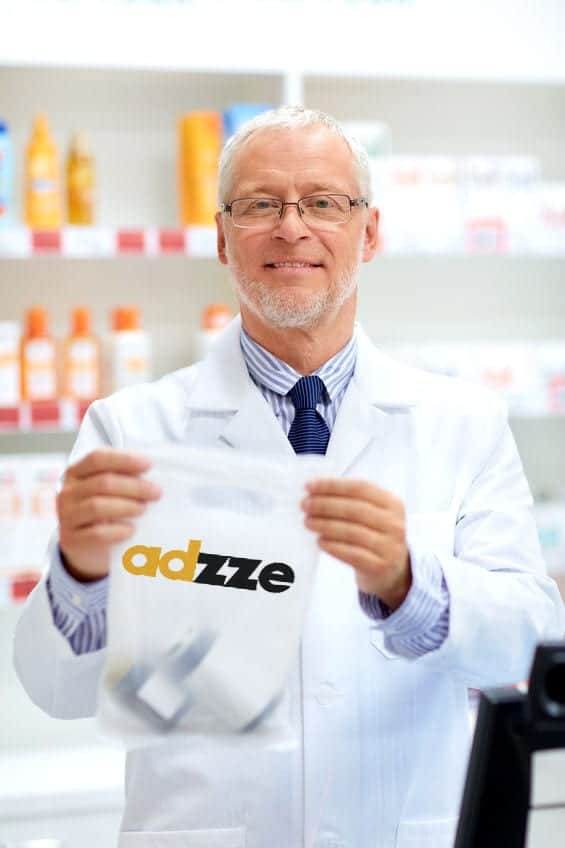 Pharmacy Bags Advertising as Creative tool for Healthcare Marketing Managers
Learn how Healthcare Marketing Managers can leverage Pharmacy Bags Advertising.
Marketing Managers or owners of small healthcare businesses can find themselves in a conundrum when it comes to identifying advertising ideas. Typically don't have the budget needed for large campaigns and they have to spend more of their profit on advertising in the early stages of being in business in order to get noticed. In this situation of less budget and high goals to be achieved bags advertisement is the best option to choose as a budget effective marketing campaign.
Many healthcare corporations are working blindly when it comes to understanding what it gets from spending and ROI on digital advertising.
Digital media is great for reaching a specific set of consumers with targeted messages quickly, efficiently and at a lower cost. Recently, a study from Bain & Company (1) found out that digital advertising is less effective than traditional media in terms of getting consumers to remember it.
Recent studies by the research firm Lumen confirmed that only 9% of digital ads are viewed for more than a second (2). The study has used laptop-mounted eye-tracking cameras on 300 consumers' laptops to collect visual data on what they notice when they are online. During the study, it was recorded 30,000 minutes of data, with evidence relating to around 15,000 digital ads.
Billboards are an expensive commitment and deliver low impact
Costs of billboards depend on format, circulation, demographics, and impressions. Traditional billboards cost $14,000-20,000/month in larger markets.
It takes considerable time, energy and money to advertise with billboards. On the top, most billboard companies require advertisers to close long-term contracts. If your campaign strategy requires flexibility and multiple messages delivered at specific times, billboards are not the right media.
Many commuters are subjected to dozens of billboards each day with a limited attention span. Billboards become easy to be ignored and the short exposure limits the recall rate of the audience.
Pharmacy Bags Advertising as a targeted and efficient promotion method
Pharmacy Bag Advertising is an outstanding tactic to reach consumers with their minds in healthcare. The advertisement is printed on pharmacy prescription bags and distributed to the stores the advertiser selected. The consumer literally touches the ad and eventually bring it to their home. Pharmacy Bag Advertising creates additional exposure to other viewers since sometimes the consumers place the bags on their table at home.
The bags are handled by healthcare professionals from reputable pharmacy chains providing exceptional exposure to your brand. The target audience immediately connects with your message as they are with their minds in their health while picking up their prescriptions. This provides enhanced assimilation of your message.
A unique bag provides on average 15 min of exposure and extended views when the patient takes the bag home. Each pharmacy distributes on average 5,000 prescriptions bags/month, this generates an estimated 1.5M of impressions.
Pharmacy Bag Advertising is an efficient and affordable marketing method to deliver the message to healthcare consumers.
Sources:
(1) Bain & Company, Online or Traditional, What's is Better for Brands? Nov 2016
(2) Marketers Continue to Waste Money as Only 9% of digital Ads are viewed more than 1 Second. Lumen Research, 2016
Bags Advertisement has always been a cost-effective way to market your product for a longer time of your ad with your audience. Advertising on pharmacy bags is a form of direct advertising and results are also clearly measurable. Direct contact with your customers allows you to target the customer where there is no any other competitor. If you need in the hand advertising do contact us today and start watching your rising graph.