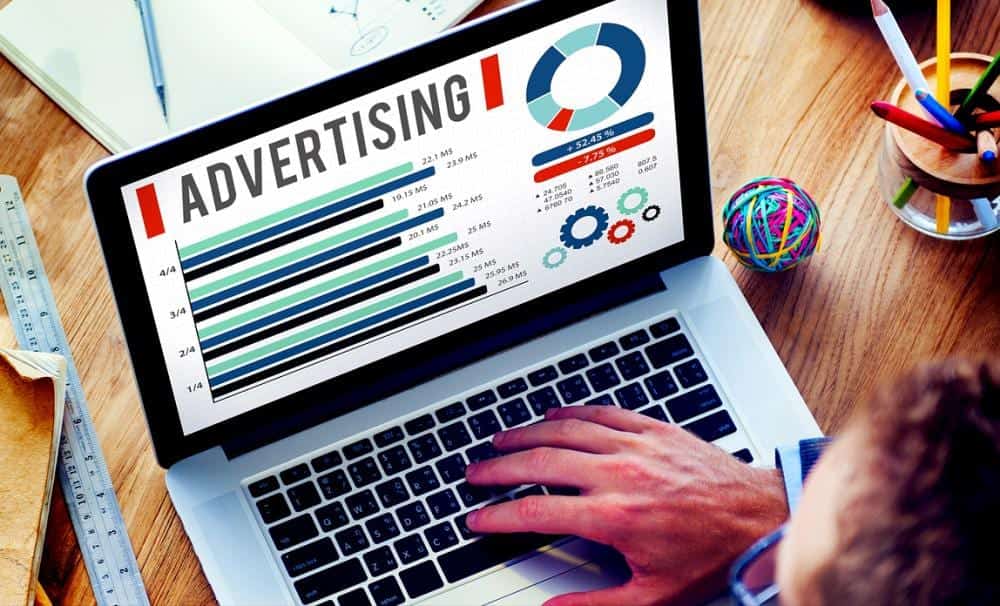 Viral Marketing: Things You Should Know
You have prepared a business plan and completed your market research. It's now time to launch your business and start designing your advertising campaigns.  Before you invest in advertising, you should learn more about a new concept: In-the-Hand Marketing. Here are a few things that you should be aware of.
Viral Marketing and traditional advertising
Digital, Out-of-home, print, TV. There are several options which fit into different budgets. Knowing your audience has implications for your marketing strategy and helps you answer questions the demographics of your potential customers and which media will most influence their buying behavior. A less known concept is In-the-Hand Marketing. This type of advertising places ads on consumable goods such as dry cleaning hangers, valet tickets, coffee cup sleeves, and even pizza boxes. In-the-Hand  Ads can be considered small, moving billboards that consumers generally spend considerable more time with than other forms of traditional or non-traditional advertising.
Viral Marketing can be a type of guerrilla advertising . The concept relies on the placement of advertising in unusual and unexpected places often with unconventional methods and being first or only ad execution to do so. In-the-Hand Advertising is a ramification of Guerrilla advertising and relies on the placement of ads on vehicles that consumers touch at daily basis as: coffee cups, pizza boxes, drink coasters, hotel room key cards, Prescription bags, dry cleaner hangers.
Door Hanger Marketing
Door Hanger Advertising is straightforward. All you need are as many custom printed door hangers as possible for distribution to the target locations. Once they are ready, you fix the hangers on the doors of the target audience. The advertiser has to ensure the right delivery of door hangers to the targeted addresses. This medium is effective because of the element of surprise. Usually, you will notice any foreign object on your doorknob every time you come home. If you do, you will most likely have up to five minutes looking at it, trying to find out what message it is carrying.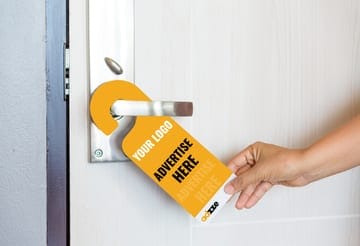 How it Works:
The message of the advertiser is printed on door hangers and placed on the doorknob of households. Door Hanger Marketing is an unconventional marketing tactics since the targeted audience do not expect to see the ad hanging on their doorknob.  The surprise effect of seeing flyers door hangers causes a cognitive stimulus on the consumers which enhances the assimilation of the message and makes it memorable. The households can be targeted by specific demographics and the advertiser must partner with the capable Door Hanger Advertising company to ensure to track the door hanger delivery to the targeted addresses. Typically, the return of Door Hanger Advertisement program is 3x, this means for every $1 invested, the advertiser receives $3 back (you can see more details on the ROI calculation at the end of this article).
Calculating the Return on Investment (ROI) of Door Hangers
Let's assume that you are the owner of a local Greek restaurant and you want to improve your sales. The recent pandemic caused you a drastic business harm since the past months most Americans were forced to stay home quarantined. Now that your activities are back to normal you must recover the lost sales with more a creative approach.
You start planning the delivery of door hangers. You include a promo coupon offering one free appetizer if they come to your restaurant and order at least one entry. Let's assume that you distributed 10,000 door hangers.
Typical conversion rates of Door Hanger Advertising vary between 4-8%. This percentage will depend on how attractive the offer is and how compelling the artwork. Let's assume for this case a 5% client conversion.
Audience Reach: 10,000
Converted clients (5%): 500 new customers
Sales price of an entry: $20
Incremental sales (after the campaign): $10,000
Cost of the door hanger campaign: $3,000
So for every 1 dollar, you invested in a door hanger campaign, you received at least an additional 3 dollars of sales.
Targeting:
Start small by focusing on a small radius in your local area so you can deliver the hangers yourself to save on costs and see if there is a return. Then, based on the results, decide if you want to invest more money—maybe you want to pay someone to do the canvassing for you—to reach a broader audience.
Advertising on Coffee Sleeves

The logo and message of the advertiser are printed on sleeves that protect coffee drinkers from hot coffee. The coffee cup ads are distributed to the coffee shops the advertiser selects. This tactics demonstrated improved assimilation of the advertising message since it places the brand in the hand of consumers. Specific targeting is enabled with an in-house tool to profile the demographic profile and identify specific coffee venue addresses. Coffee sleeves can be creative tactics for small business deliver better results than traditional billboards with high recall rates.
Pharmacy Bag Advertising
Pharmacy Bag Advertising is an outstanding tactic to reach consumers with their minds in healthcare and . The advertisement is printed on pharmacy prescription bags and distributed to the stores the advertiser selected. The consumer literally touches the ad and eventually bring it to their home. Pharmacy Bag Advertising creates additional exposure to other viewers since sometimes the consumers place the bags on their table at home. The concept of leveraging prescription bags or pharmacy bags is an effective tool to target healthcare providers since it delivers the message in the hand of consumers.
Bar Coaster Advertising
Bar coaster advertising is a creative option to spread your message in a relaxing environment. The venue places the coasters on the dining or bar tables generating a direct impact on consumer who receives the message in their hands. This is guaranteed impressions, as they have to take the coaster in their hands. Approximately 1,500 coasters/month can be distributed by each venue generating estimated 0.7M of impressions/month. The 'unusualty' raises level of interest in consumer and hence their willingness to expend cognitive effort to process message. The concept of using coasters is a unconventional tactics that surprises the audience in a relaxing environment delivering a high brand recall.