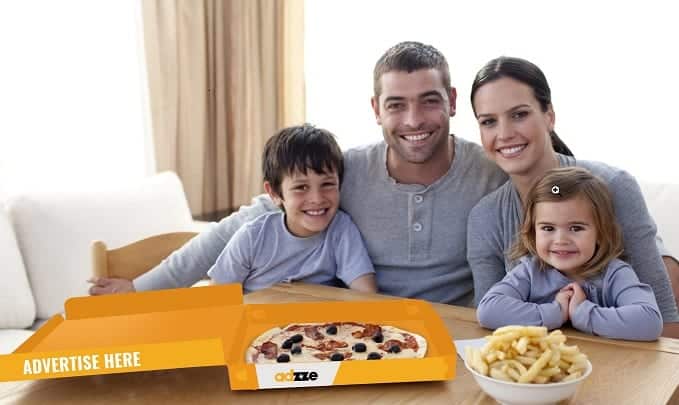 Pizza Box Top Advertising: Reach your Clients at Home
Pizza Box top advertising: learn more.
The Impact of COVID-19 on the Advertising Industry
As the economic impact of COVID-19 continues to unfold, brands and agencies need to re-image their advertising methods. The out-of-home (OOH) advertising players will need to rethink their strategies before the damage deteriorates to them bleeding clients too. Traditional billboards will not be effective anymore as the consumers will be taking a more careful approach and spend more time in their homes. So fewer people will be outside and less impressions will be generated by outdoors advertising. Traditional OOH will be replaced by in-home advertising.
According to a survey conducted by the Interactive Advertising Bureau (IAB) it is believed that traditional out-of-home advertising is expected to suffer (Forbes) an estimated ad spend decline of 51% for March and April and a decline of 41% for May and June.
Let's bounce some ideas?
Adzze has been re-thinking the advertising tactics adapting to a more sensitive message. The team has working on extending its capabilities to offer advertising concepts that can reach the consumers at their safest place: at home. One of these methods uses pizza boxes as advertising space. Think of this as small moving billboard that gets delivered at the consumer's home.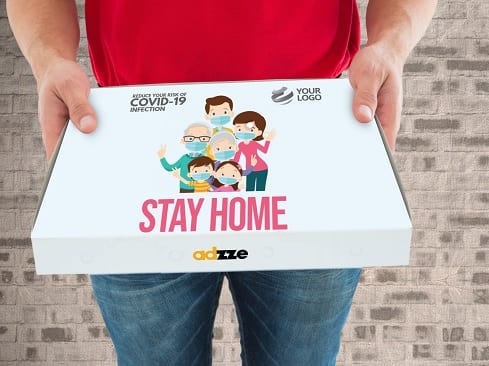 How does Pizza Box Top Advertising work?
The logo and message of the customer are printed on pizza boxes (or pizza box toppers) and distributed to the pizza venues that were selected. The venues are recognized pizza chains so your advertisement have a exposure to reputable brands. The pizzerias deliver either in the hands of the consumer or at their homes reaching on average 45 min of brand exposure.
Just by looking at the numbers, marketers can see the reasons why Pizza Box Top Advertising and pizza box advertising can produce an outstanding return on investment. In the United States alone, there are more than 80,000 pizza retailers and that figure includes the large national chains. Of that 80,000, approximately 65 percent are small mom and pop organizations or small, local chains. Additionally, 97 percent of all Americans consume at least one pizza over the course of a month. With the average family eating 30 pizzas per year, there are approximately 1.9 billion pizzas sold each year.On average, each pizza venue delivers 2,000 ads per month with an estimate 1.8M impressions/month. This is 4 times more impressions than a freeway billboard for 7-10 times less costs.
Studies demonstrated that this type of ads can evoke an 80% recall rate (8 out of 10 households individuals remember to see an ad on the pizza box) with an average ROI of 150%. This means, for every 1 dollar the advertiser invested in a pizza box advertising campaign, they received at least additional 2.5 dollars of sales. For more details, see the article Estimating the ROI of Pizza Box Marketing.
How Do Pizza Top Ads Compare to Traditional Media?
Interestingly, here is where pizza ads diverges from traditional media and other advertising alternatives. Unlike traditional media that relies on repetitiveness, advertising using pizza boxes is one off but more effective. Pizza Top Advertising, an advertiser prints the message and the business logo on the top side of the pizza box. Then, the advertiser delivers the pizza boxes to the targeted pizzerias. From there, buyers will pick their pizzas, or the pizzeria will deliver them to the buyers' homes. When the buyer opens the pizza to eat, he/she interacts with the ad on the box in a unique manner.
Recently, the Missouri Department of transportation run a state wide program placing pizza top ads to alert drivers to drive sober: Box Top Advertising: Pizza Deliveries Are Saving Lives.
As technology continues to evolve, OOH will shift towards to digital. There are advantages in comparison to traditional media. Pizza box top advertising can also build interactive features as QR codes,  coupons and even augmented reality. Advertising on pizza boxes is one of the most straightforward  way how to target consumers. The advertiser places the logo of the brand that needs visibility as well as the message on pizza boxes. Then, the distribution of boxes to pre-selected pizzerias, where a specific demographic of customers buy pizza.
On the contrary, advertising pizza is low cost and it is an unconventional tactics. With the same rates for one 30-second TV commercial, a business can produce close 350,000 pizza boxes. These can be sent to about 200 locations where each customer will have at least 30 minutes of peaceful time with the message.
Some examples:
♦   Increment revenues: use coupons on your Pizza Box Top advertising to boost the sales and track the ROI of your program
♦   New product launch: make your audience aware of the new product or service launch
♦   Promoting a new location: target specific Zip codes to raise awareness of the new location your local business is opening
♦   Sports/Fitness: remind your audience to check your fitness business and spend the pizza calories
♦   Entertainment: promote your recreational services to families in the specific target areas
♦   Pizza Box Top Advertising is an unique way to reach your audience in their home
Guerrilla advertising can overcome this challenge. The concept relies on the placement of advertising in unusual and unexpected places often with unconventional methods and being first or only ad execution to do so. In-the-Hand Advertising is a ramification of Guerrilla advertising and relies on the placement of ads on vehicles that consumers touch at daily basis as: coffee cups, pizza boxes, drink coasters, hotel room key cards, Prescription bags, dry cleaner hangers.
Why would businesses want to use such a technique? First, door hangers are enabled a personal delivery of the message.  While most ad campaigns suffer from inattention by the target audience, door hangers attract much more attention. It is because individuals encounter the ads in their most serene moments. The advertiser has to ensure the right delivery of door hangers to the targeted addresses.
Pizza Box Marketing the ideal Stay-at-Home Ad
The after-effect of this development will be an unavoidable reduction in patronage for the billboard advertising companies. Billboard companies will eventually have to sit it out with the hope that they can still reclaim their market share in the end. However, smaller businesses and other brands that depended on their strategic displays to market their brands may not be so patient. Just as major clients like hoteliers, airlines, and cinemas are on pause mode, smaller brands are quickly pulling away and leveraging alternative media and in-home advertising to preach their brands.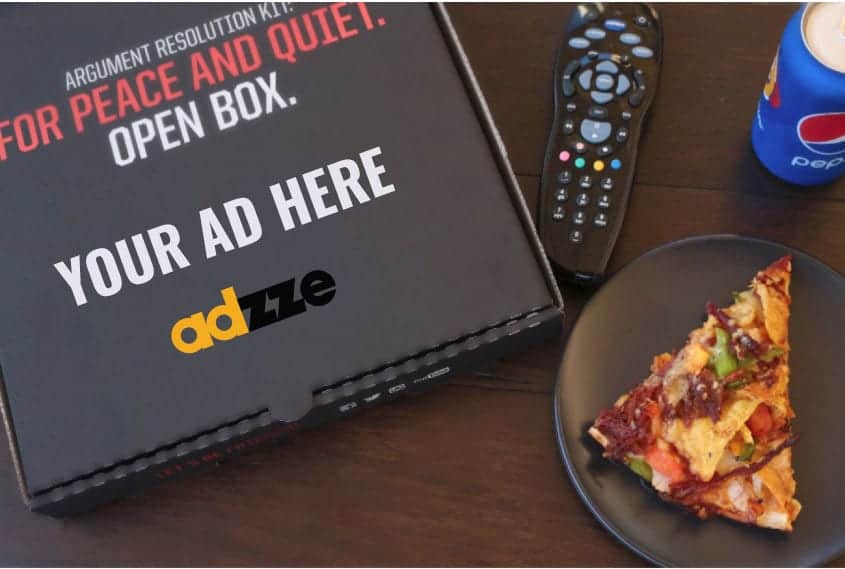 Billboard companies may not only be counting their losses in billions of dollars, many of their customers might have moved on to embrace other more pocket-friendly advertising alternatives. These alternatives are indoor-directed, and have proven to be equally effective, perhaps even more effective than the conventional outdoor methods. Aside from the fact that they are more expensive, it is difficult to track engagement for out-of-home ads. In fact, small businesses face more challenges trying to get a marketing space in the highly competitive ad industry.
The end of coronavirus is much anticipated across borders but for the foreseeable future, the impact of the pandemic will not be palatable. One thing is certain; the outbreak of the virus will not only cause disruptions of businesses and fall in revenues but will also open new ad perhaps better dimensions to doing business, especially for the advertising industry.
As example, during the pandemic there is an interesting increase that has been recorded by restaurants and food delivery services across the country. This means, it creates a new demand and opportunity for in-home advertising since most Americans are working from home.