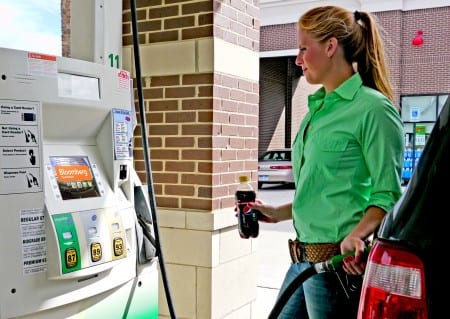 Benefits Of The Gas Pump Advertising
Gas pump advertising: learn more about this unconventional ad concept.
One creative and unconventional OOH tactics is to place ads in gas stations using the space in the gas pump or gas tanks as advertising space. Gas stations can employ its stage of 24hr availability as a advertisement tool. Hundreds of vehicles visit a gas station every day for refilling. It consequences in a high footfall inside gas stations. Thus, gas stations come as a lifesaver for those brands who want to promote their advertisement in every areas. On the contrary, posting banners won't be a wise idea. The audience of rural areas is mostly less fascinated with advertisements. They don't hold an inclination to try new products. Thus, gas pumps advertising ensures to provide the uppermost visibility.
Gas pump stations have become a trending place for an advertisement to seize the eyesight of their target audience. They afford eye-catchy visual effects in the payment meter and inside the stores. This becomes an operative medium of gas pump advertising. It harnesses the advantage of footfalls. It indirectly involve the customers snatching and creating a wide viewership among those who halt to refill.
Gas pump advertisers implement several techniques to augments the visibility of advertisements. Advertisements are positioned at eye-level on top of the pump, a place which is favorably unavoidable. It often grabs eye sights while refueling. This process can gain attention and consciousness of a product without any interruption from the daily routine of the viewer.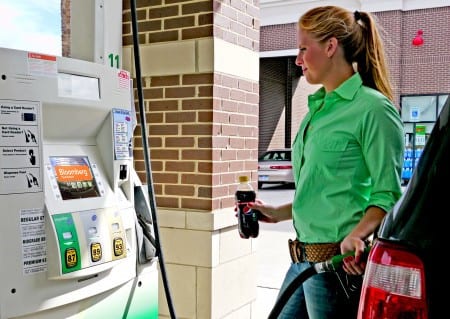 Gas pump advertising Benefits
24 hours of availability
90% of gas pump stations remain open 24 hours a day thereby the advertisements through banners, stickers and digital signs. It can get 24/7 exposure to tourists, passengers, motorists or pedestrians. They are in thought of booking a hotel, finding a shop or restaurant for certain purposes.
Elongated Exposure time
It takes around 7-9 mins for a vehicle to get refueled because of the long queue. Meantime, the target audience of the brand engrosses in a visual interaction with the gas pump advertisements that are displayed. It, thus rationalizes gas station advertising as an uncluttered means for advertising.
Magnify Impressions
With every 4-5 times, an individual stop to refuel their vehicle in a month the impression rates exponentially surge. With an average of more than 1k impressions in a month. They are generally considered as a cost-effective medium with low-cost production. It provide large space to opt for mega-sized billboards for better perception.
 Advertisement through nozzle and toppers
Without being ironical, advertisers and their clients can utilize every medium or surface for advertisement. Literally advertisers can place stickers over the frame of the gas pump hose. They carry a better recall rate and dwelling time. They can be effective for stores offering services in proximity to that location.
The process of gas pump advertising through topper is money-saving. They come in the form of static and dynamic medium. They are placed over the gas meters. It offers a high exposure time from the target specific audience.
To attain a perfect exposure of an advertisement, you must be certain about the situations. The needs of that particular geographic area and cater service accordingly. For publishing and posting community awareness advertisements gas station would be the most appropriate destination to sponsor.
To be sure, gas pump advertising grows the visibility of a brand. However, the medium is capital intensive and it fails to target the exact audience that a business desires. That is why businesses can use novel advertising mediums like valet tickets. Particularly, a business that advertises at gas pumps is interested in reaching motorists. However, there is no guarantee that the motorists will engage with the adequately to influence conversion rates.
Fortuitously, using valet tickets grabs the attention of the audience in an unusual manner. First, this is because the audience does not expect an ad on a valet ticket. Second, the simplicity of the medium is striking. All these conspire to ensure that the target audience interacts with your ads adequately. Further, the long exposure period increases conversion rates.