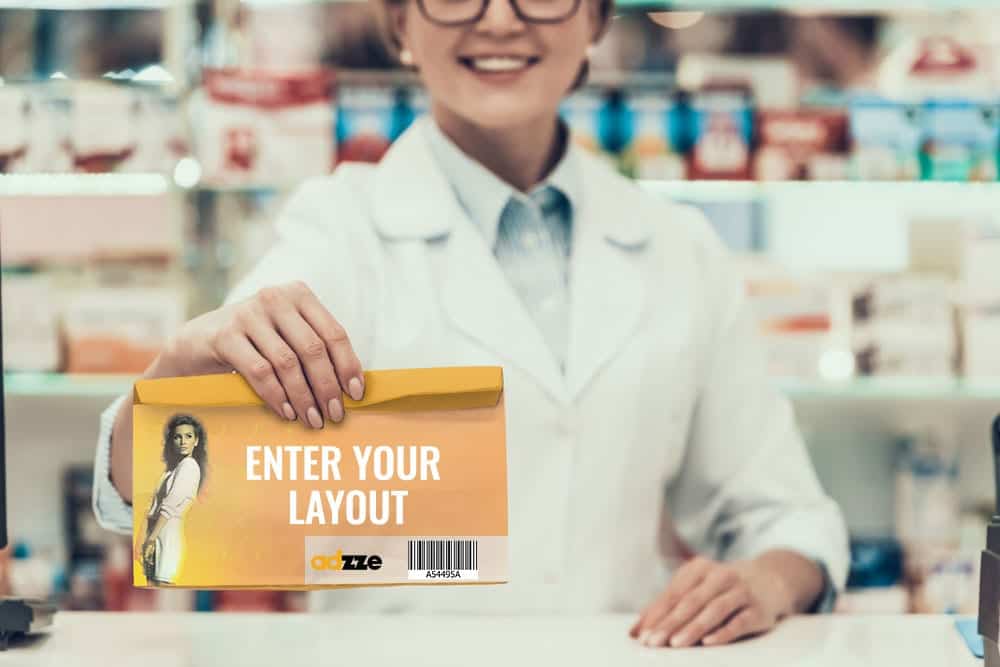 Pharmacy Bag Advertising
Campaign reach: Pharmacy chains
Campaign time: minimum 1 month
Est. impressions: 1.5M per store/month
Expected recall rate: 40-50%
Audience demographics: Average US adult demographics
---
Bag Advertising on prescription bags is an outstanding tactic to reach
consumers with their mind in healthcare
COVID-19 is shifting the Advertising Industry
The domino effects from the COVID-19 crisis continue to impact all types of business causing need to change their advertising strategy. As the impact of COVID-19 continues to unfold, brands and agencies need to keep a up to date with the changing consumer behaviors and ensure they are prepared for any outcomes and find new opportunities.
Recently the Interactive Advertising Bureau surveyed nearly 400 media buyers and brands. The results were surprising: 74% think the coronavirus pandemic will have a larger impact on their advertising spend than the 2008 financial crisis. According to the President of Interactive Advertising Bureau, David Cohen, "Typically marketers will press pause for a moment, take a breath, assess the situation, replay and reevaluate."
Adzze has been working with its clients to adapt to a more sensitive message. The team has been extending the capabilities to offer advertising options that can reach the consumers at their safest place: close to healthcare providers.
Advertising on pharmacy bag provide a sensitive message considering the current environment. The advertisement is printed on pharmacy prescription bags and distributed to the pharmacy venues you selected. The bags are handled by healthcare professionals from reputable pharmacy chains providing an exceptional exposure to your brand.
The consumer will literally
touch your message and associate it with healthcare.
The target audience immediately 
connects with your message

 as they are with their 

mind in their health

 while picking up their prescription. This provides an enhanced 

assimilation of your message

.
Bag Advertising reaches consumer with their mind in their heath
An unique bag provides on average 
15 min of exposure

and extended views when the patient takes the bag home. Each pharmacy distributes on average 5,000 prescriptions bags/month, this generates an estimated 1.5M of impressions.
Bag Advertisement will be more effective than traditional methods
Billboards are not attractive advertising methods. Most digital ads creation companies have put a temporary stop on ads creation. A reasonable overview of the current crisis wrought by the COVID-19 spread shows that making new ad videos may just end up as a waste of time and money for the ad shoot companies as well as it is for the owners of the business. In the coming weeks, ad buyers in the USA will tilt towards new advertising ideas the more. All methods of advertising that serve as workable alternatives to OOH advertising will shine as saviors. And they'll shine the more if they provide equally satisfying results for the clients.
Pharmacy Bag Advertising will still be an effective method. Pharmacies are considered essential business and they will be less affected by the lock down. The trend is to see a higher traffic of consumers going to pharmacy chains to buy overall medicine and groceries.
By the end of the crisis, billboard companies may not only be counting their losses in billions of dollars, many of their customers might have moved on to embrace other more pocket-friendly advertising alternatives. These alternatives are indoor-directed, and have proven to be equally effective, perhaps even more effective than the conventional outdoor methods. Aside from the fact that they are more expensive, it is difficult to track engagement for out-of-home ads. In fact, small businesses face more challenges trying to get a marketing space in the highly competitive ad industry.
While the OOH industry will decline, Pharmacy bag Advertising will emerge as an effective advertising method that will make your consumer associate your brand with healthcare.
Bag Advertisement is usually applied by niche advertising agencies that aim to overcome traditional methods of advertising to get the attention of consumers. Traditional advertising has been witnessing a decline in the effectiveness so there is a  greater demand for point-of-sale communications and its ability to offer precise audience targeting.
Another factor that contribute to the success of agencies using bag advertising is the smart way to retain consumers attention as marketers target on creating an cognitive stimulus that evokes surprise by placing ads in unusual locations and with unconventional methods that had never used before.
Examples:
New location/opening of healthcare business: place your pharmacy bags advertising in strategic addresses to make the local community aware of the new location of your healthcare business
Awareness programs: make the audience aware of  healthcare campaigns during specific seasons e.g. flu season.
Healthy nutrition: ideal for food and beverage industry to promote their healthy product line.
Pharma and Biotech: promote your brand or new medicine targeting specific demographic profile
Sports, Wellness and Fitness centers: leverage prescription bags to promote your wellness center
Adzze is currently shifting the advertising methods to a more sensitive approach by reaching consumers at the safest place.
Request a Quote