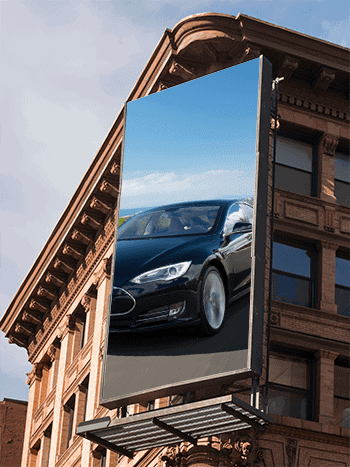 Billboard Rental: Is The Investment Worth?
Billboard rental
Billboards make up a substantial part of outdoor advertising mediums. Indeed, there were around 342,000 billboards in the US as of August 2019. Interestingly, billboard rental is popular because many people use roads where businesses locate the billboards. Despite the ubiquitous nature of billboards, the advertising medium faces major challenges that affect its effectiveness.
What is the cost of billboard rental?
One of the most unpopular things about traditional advertising mediums is their cost. In addition, the costs vary greatly depending on the location and a host of other things. For example, in the US State of Illinois' Chicago, a business pays about $5,481 per billboard for one month. This cost climbs to approximately $20,000 in more expensive regions like Miami, New York, Washington DC, and Las Vegas.
Interestingly, the average impressions a billboard rental can earn in Chicago is about 4.9 million in a week. Important to note, such levels of impressions are only possible beside busy highways. In New York and other largely populated cities, the impressions could top 10 million in one week. Unfortunately, the impressions rarely convert to engagement or conversion. Indeed, it will be unsurprising for the 10 million a week impressions to fail to attract any direct actions.
Besides the cost of installing a billboard, advertisers may end up paying maintenance costs. This may eventually push the trues cost of billboard rental to unsustainable levels. In addition, many people are agitating against the sight of billboards allover highways and inside cities. As a result, some city authorities are moving on with anti-billboard strategies. This implies that potential customers are likely to shun your brand for their loathing of billboards.
Billboards prices and poor ROI
Certainly, the ride is rougher when advertisers opt for digital billboards. Admittedly, digital billboards are more effective than static ones especially in terms of attracting attention. Unfortunately, resistance against the visual pollution by digital billboards is unhealthy for the effectiveness of the medium.
If an advertising medium is going to face a lot bad energy from the audience, it becomes unsuitable for businesses. Fortuitously, alternatives like in-the-hand marketing exist. Particularly, this alternative employs the simplest techniques yet very effective. For example, a business that advertises using hotel keycards earns more conversions compared to using billboards. What happens is that a business can target the exact audience it desires. Further, the audience interacts more with the brand than they would with billboards.
Why billboard advertising cost matters
Across the globe, businesses are paying excessively to get their brands on premium billboards. Unfortunately, the advertising costs do not rhyme with the conversion rates that the businesses experience. In particular, this is due to the inattention by the target audience. For example, a billboard may be visible to millions of people in a week but just a few hundreds will make direct action.
Door hanger advertising: simple but effective
Imagine being able to display your brand only to the audience that you wish to sell to? This is what door hanger advertising is capable of. The trick is to custom design door hanger flyers and then deliver them to the homesteads of your target audience. The whole of this process is unbelievably cheap. In addition, the unconventional nature of the advertising grabs the attention of the audience. As such, your ad earns high conversion rates at a huge discount.