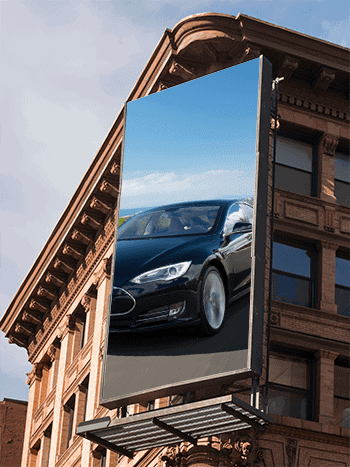 Billboard Rental or AR Advertising – Which Investment Worth It?
Billboard rental or Augmented Reality Ads? Marketers are shifting from billboards to interactive Ads with Augmented Reality (AR). Contact us to find out more.
Billboards became obsolete due to the visual pollution, lack of performance tracking (inability to track views) and high costs. Marketers have been innovating and using more unconventional advertising methods that leverages Augmented Reality (AR).
Augmented reality is the integration of digital elements into our real-world environments. In other words, it is a combination of both real and virtual worlds. In 2016, Pokémon Go started the augmented reality hype. Most sources credit the Pokémon Go app for increasing awareness of AR apps.
Now this concepted rolled out to advertising.
There are huge benefits that a brand can experience by using AR advertisements as a marketing tool. According to Mirr AR Integrating AR advertisements at different points in the sales funnel can increase up to 40% conversion because consumers are prone to have AR experience for shopping. The concept of try before you buy is taking the retail world by storm with the help of AR advertisements. There is an ever-increasing number appearing at Statista with 1.5 billion frequent AR consumers worldwide. Which is expected to grow to 4.3 billion by 2025.
AR advertisement has developed pretty quickly over the past few years. It is moving from the web to smartphones and now interactive print Ads are trending in the form of flyers, business cards, and product catalogs. As a next-gen marketer you should ask yourself are you ready for augmented reality marketing? If the answer is not sure then have a look at the reasons you should try AR OOH Ads for your next marketing venture. Because the future of AR OOH advertising is quite evident.
Scan the QR code to experience the AR effect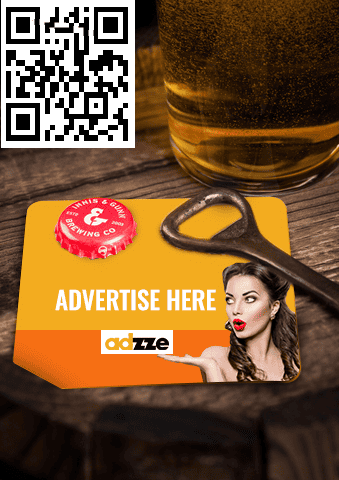 The Benefits of AR Advertising
A neuroscience study conducted by Neuro-Insight in partnership with Mindshare UK and Zappar that AR drives high levels of visual attention in the brain (almost double that of non-AR tasks). What is stored, or encoded into memory is 70% higher for AR experiences.
In neurological sciences, if any type of marketing or communication is to be effective, it needs to be assimilated into long-term memory – otherwise, it will have limited impact. AR experiences deliver higher brand memorization and increased purchase intent. This was demonstrated by numerous studies from firms like Accenture, Statista, Snapchat and Facebook have shown that branded AR experiences result in higher brand recall and increased purchase intent.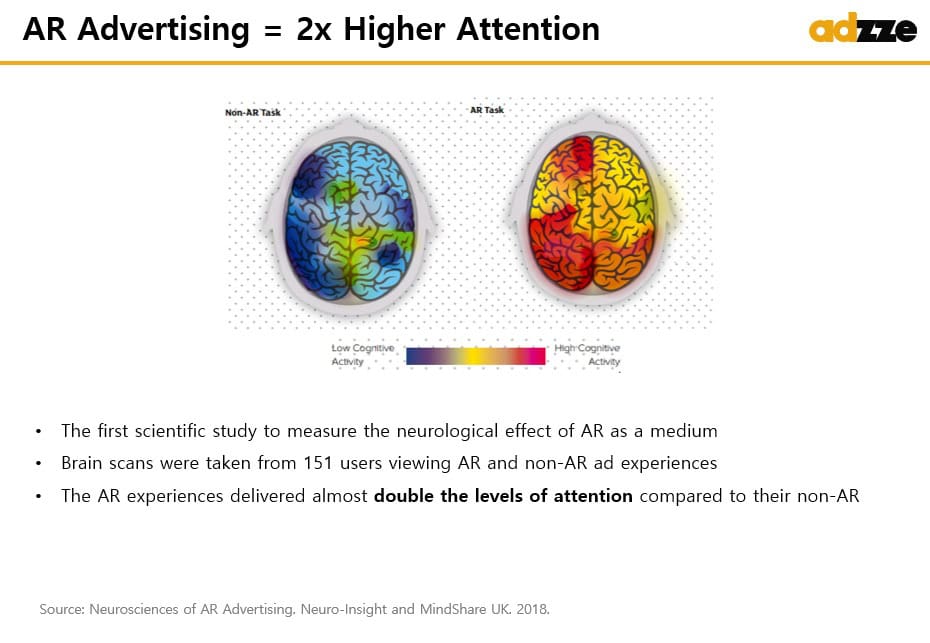 Incorporate AR into unusual vehicles
One of these concepts uses pizza boxes as advertising space that gets delivered at the homes of the audience. Think of this as small moving billboard that your target audience will grab in their hands. Studies demonstrated that this type of ads can evoke an 80% recall rate (8 out of 10 households individuals remember to see an ad on the pizza box) with an average ROI of 150%. This means, for every 1 dollar the advertiser invested in a pizza box advertising campaign, they received at least additional 2.5 dollars of sales. For more details see the article Estimating the ROI of Pizza Box Marketing.
What is the cost of billboard rental?
One of the most unpopular things about traditional advertising mediums is their cost. In addition, the costs vary greatly depending on the location and a host of other things. For example, in the US State of Illinois' Chicago, a business pays about $5,481 per billboard for one month. This cost climbs to approximately $20,000 in more expensive regions like Miami, New York, Washington DC, and Las Vegas.
Interestingly, the average impressions a billboard rental can earn in Chicago is about 4.9 million in a week. Important to note, such levels of impressions are only possible beside busy highways. In New York and other largely populated cities, the impressions could top 10 million in one week. Unfortunately, the impressions rarely convert to engagement or conversion. Indeed, it will be unsurprising for the 10 million a week impressions to fail to attract any direct actions.
Besides the cost of installing a billboard, advertisers may end up paying maintenance costs. This may eventually push the trues cost of billboard rental to unsustainable levels. In addition, many people are agitating against the sight of billboards allover highways and inside cities. As a result, some city authorities are moving on with anti-billboard strategies. This implies that potential customers are likely to shun your brand for their loathing of billboards.
Billboards rental prices and poor ROI
Certainly, the ride is rougher when advertisers opt for digital billboards. Admittedly, digital billboards are more effective than static ones especially in terms of attracting attention. Unfortunately, resistance against the visual pollution by digital billboards is unhealthy for the effectiveness of the medium.
If an advertising medium is going to face a lot bad energy from the audience, it becomes unsuitable for businesses. Fortuitously, alternatives like in-the-hand marketing exist. Particularly, this alternative employs the simplest techniques yet very effective. For example, a business that advertises using hotel keycards earns more conversions compared to using billboards. What happens is that a business can target the exact audience it desires. Further, the audience interacts more with the brand than they would with billboards.
Billboards companies need to rethink the strategy
Looking to rent a billboard? Billboards will not be an attractive advertising method. Blank billboards and cancelled digital ads across the country and many parts of the globe is a strong pointer to how the coronavirus pandemic sweeping the world today has impacted sign advertising. The devastating effects of the pandemic on human lives could almost be likened to how terribly it has also dealt with businesses around the world. Some out-of-home advertising firms have withdrawn their earnings projections for the year as a result of market uncertainties at the moment. A good number of businesses that will survive the pandemic will most likely have to struggle to find their footing again. Reports also say that digital ad giants, Facebook and Google have also had their shares of the downturn. Even Coca-Cola has soft-pedaled its marketing drives.
Most digital ads creation companies have put a temporary stop on ads creation. A reasonable overview of the current crisis wrought by the COVID-19 spread shows that making new ad videos may just end up as a waste of time and money for the ad shoot companies as well as it is for the owners of the business. In the coming weeks, ad buyers in the USA will tilt towards new advertising ideas the more. All methods of advertising that serve as workable alternatives to OOH advertising will shine as saviors. And they'll shine the more if they provide equally satisfying results for the clients.
Across the globe, businesses are paying excessively to get their brands on premium billboards. Unfortunately, the advertising costs do not rhyme with the conversion rates that the businesses experience. In particular, this is due to the inattention by the target audience. For example, a billboard may be visible to millions of people in a week but just a few hundreds will make direct action.
Door hanger advertising: simple but effective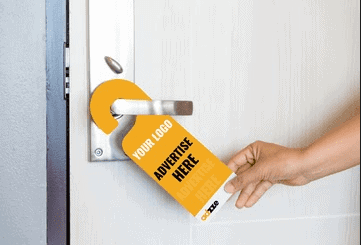 Imagine being able to display your brand only to the audience that you wish to sell to? This is what door hanger advertising is capable of. The trick is to custom design door hanger flyers and then deliver them to the homesteads of your target audience. The whole of this process is unbelievably cheap. In addition, the unconventional nature of the advertising grabs the attention of the audience. As such, your ad earns high conversion rates at a huge discount.
Pizza Box Marketing will replace Outdoor Advertising
A survey conducted by the Interactive Advertising Bureau (IAB) interviewed nearly 400 media buyers and brands. They found out that 63% of the brands plan to change their messaging strategy as a result of the coronavirus. Consumers do not expect Brands to stop advertising. Instead, they expect the message to be sensitive. The advertising message should reinforce reassurance and reach the consumer at the right location.
Fortunately, Adzze's new age marketing strategies offer innovative ways to navigate the storm and help brands to take their message into the homes of the consumers. Unique advertisement ideas have surfaced across the landscape; these strategies include placing ads pizza boxes and door handles that can reach the consumers at their homes. As simple as they sound, they generate guaranteed impressions delivering the ads at consumer's homes.
The advertisement is printed on pizza boxes (or pizza toppers) and shipped to the pizzerias that the advertiser selected. The advertising pizza venues distribute to the consumers locally or they deliver at their homes. These venues are recognized pizza chains, so the advertiser has exposure to reputable brands. The pizza box ads get delivered in the hands of the consumers at their homes reaching on average 45 min of brand exposure. Sometimes the consumer leaves the pizza in the fridge generating additional exposure. On average, each Pizza Box Advertising venue delivers 2,000 pizza box ads per month with an estimate 1.8M impressions/month.
There are few reasons why marketers would choose Pizza Box Advertising instead of other traditional media vehicles:
High Brand Recall
The pizza box ads create a surprise effect making it more memorable. Studies show that this type of ads can evoke an 80% recall rate (8 out of 10 households individuals remember to see an ad on pizza boxes)
Low Cost
The budget used to place a 1 billboard on a high traffic highway for 1 month can be re-allocated to distribute 60,000 pizza boxes. This is enough to cover all households of a small town in the USA.
High Return on Advertising Spend
The average ROI is 150%. This means, for every 1 dollar the advertiser invested in a pizza advertising campaign, they received at least additional 2.5 dollars of sales.
Is your Brand Alive?