How to Identify Cheap Billboard Advertising Options
Cheap Billboard Advertising
The ramifications of COVID-19 in the OOH Advertising Industry
As the effects of the economic impact of COVID-19 crisis continue to spread with the advertising industry, advertisers start feelings its destructive effects. Marketers are facing a challenge to adapt the advertising message and tactics. Traditional billboards will not be effective as the consumers will be more distanced and spend more time in their homes.
A survey conducted by the platform Numerator indicated many industries are shifting their advertising messaging. As example, restaurants are pivoting to food delivery message. The food industry has been quick to pivot their messaging to focus on in-home delivery options. The increased "work from home" periods will naturally lead to an increase in the time spent at home. Traditional OOH will be replaced by in-home advertising.
Adzze has been working with its clients to adapt to a more sensitive message. The team has been extending the capabilities to offer advertising options that can reach the consumers at their safest place: at home. One of these concepts uses pizza boxes as advertising space that gets delivered at the homes of the audience. Think of this as small moving billboard that your target audience will grab in their hands. Studies demonstrated that this type of ads can evoke an 80% recall rate (8 out of 10 households individuals remember to see an ad on the pizza box) with an average ROI of 150%. This means, for every 1 dollar the advertiser invested in a pizza box advertising campaign, they received at least additional 2.5 dollars of sales. For more details see the article Estimating the ROI of Pizza Box Marketing.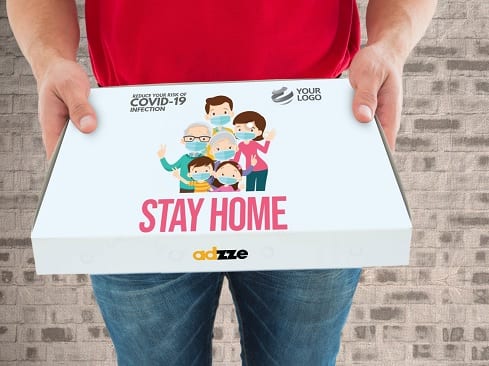 As businesses push into the new decade, one thing is getting clear. Visibility is more critical because competition is tightening. Towards that end, businesses will need to allocate more funds to advertising. Interestingly, more businesses will continue to scrap the industry for cheap billboard advertising options among other alternatives.
For starters, billboard advertising is a significant part of the outdoor advertising sector. Indeed, there were about 342,000 billboard displays in the US as of August 2019. This is evidence enough that businesses trust billboards and that they are willing to pay expensively to rent them. nonetheless, what happens when you want to rent the billboards too but cannot afford the rates? Here are a few tips on how to identify cheap billboard advertising options.
Compare billboard advertising providers
There are many businesses that offer billboard advertising services. However, many of the agencies you have heard about are those that conduct vigorous marketing campaigns. Oftentimes, the companies have to increase the costs of their services so that they can recoup the investments in marketing. Before you consider the most popular companies, do some homework and compare pricing. It may come as a surprise to you when you realize that there are cheaper prices on offer.
Luckily, there are many sites on the internet that enable people like you to compare quotes from different agencies. Unfortunately, many companies that offer such services charge exorbitantly, which means getting that cheap offer is difficult but possible.
Advertisers will have to focus on Stay-at-Home Ad options
By the end of second quarter of 2020, Barron's projects that ad agencies would have lost billions of dollars from their income statements, leaving the future of media businesses endangered, if not crippled. Prior to the coronavirus outbreak, in December 2019, the U.S. ad market was projected to grow by 4.4%, mostly from selling ads related to politics and sports. But as of March 2020, revised forecasts indicate that Print and radio ad revenues are expected to drop by 25.4% and 14.1%, respectively, while OOH advertising will drop by 11.8%.
OOH advertising agencies will need to rethink their strategies before the damage deteriorates to them bleeding clients too. According to a survey conducted by the Interactive Advertising Bureau, it is believed that traditional out-of-home advertising is expected to suffer (Forbes) an estimated ad spend decline of 51% for March and April and a decline of 41% for May and June.
Billboard costs
The cost of billboards is going substantially because of technological improvements. Notably, advertisers today have access to digital billboards that display animated ads. Unfortunately, marketing agencies' pricing of the displays is well beyond affordable for many businesses. Therefore, it is advisable to stick to static billboards.
Static billboards display still images that may need regular updating. Particularly, static displays do not attract the attention you may need to grow your brand's visibility. Additionally, the static images are less engaging, which means impression rates are low. Further, the concept of billboard advertisement is under attack as a whole. Cities are listening to the cries of its people and they are installing measures to take down billboards.
Fortuitously, there are alternatives like ambient marketing. Simply, ambient marketing entails displaying ads in areas where there is an ambient atmosphere. For example, you can display your brand and the message on a bar coaster. In the bar, the atmosphere is peaceful and patrons are likely to focus more on unusual things. Having your ad on a coaster is unusual and nobody can ignore it. Eventually, you may end up hitting your goals faster than expected.
Door Hanger Marketing will emerge as Stay-at-Home advertising

The business of marketing is changing in the age of COVID-19. Whether its effects are brief or prolonged, marketers need to be nimble in these challenging times, and pivot when needed while optimizing performance throughout the crisis.
Advertiser will have to find alternative channels to reach consumers and many already pivoted to In-Home Advertising using food deliveries. This model represents the new market trend in advertising as an alternative to traditional OOH advertising channels. As delivery orders are being fulfilled, active advertising is on-going simultaneously. Ads are placed on pizza boxes and shopping bags and delivered into the hands of customers. The amazing part is that the ads enter people`s homes and stays in their faces.
New age advertising methods as seen at Adzze, will not only attract more clients but will effectively engineer the on-boarding of major businesses as many begin to see the tremendous benefit of in-home advertising. With innovative methods such as ads placement on door hangers. This concept guarantees definite impressions of your brands on prospective customers because our approach delivers the brand directly into the hands of your target audience at their homes.
Your advertisement is printed on door hangers and distributed to the households in the zip code or areas that were selected according to the marketing campaign. Adzze technology solutions are used to target demographic profiles such as income, age, ethnicity, marital status, so that we hit your exact target-market ensuring the door hanger delivery. In addition, the segmentation method enables to evaluate annual spend criteria so that you have a better insight into the spend behavior of the target audience.  The consumers will be positively surprised if the door hanger brings them value as coupons or discounts. The advertiser must partner with the capable door hanger distributors to ensure to track the door hanger delivery to the targeted addresses. Typically, the return of the  Door Hanger Advertising investment is 3x, this means for every $1 invested, the advertiser receives $3 back.