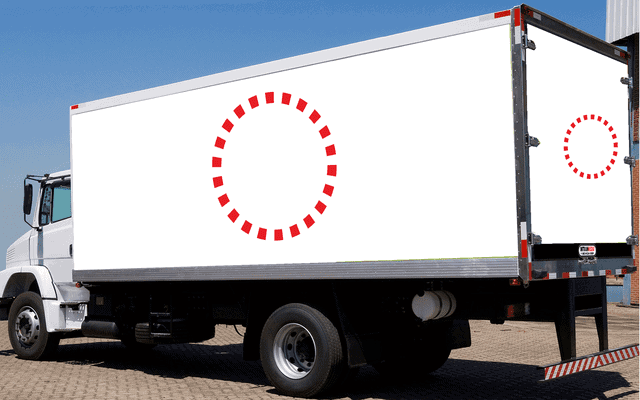 Truck Side Advertising Enables Businesses To Target Their Customers Wherever They Are
Truck side advertising: learn more about this mobile OOH concept.
Trucking is still a lucrative venture in the US. The sector employs over 3.5 million Americans, most of them male. According to the American Trucking Associations (ATA), there are about 36 million registered trucks excluding government and farm trucks. As such, there is a massive opportunity for truck side advertising, which reaches deeper into the target audience compared to traditional media.
What is truck side advertising?
Trucks pull long trailers that contain millions of tons transported on American roads every year. Delivery trucks, in particular, have broadsides that offer an excellent space for placing ads. The space at the side of the delivery trucks is sufficient to place large-format ads that are highly visible to the target audience. As the trucks crisscross the country, many people become familiar with the brands emblazoned on their sides.
Truck side advertising is similar to mobile billboards advertising. Advertisers wrap the billboards around the visible sides of the truck for maximum exposure. Delivery trucks reach closer to the target audience as they ferry goods. Often, the delivery trucks terminate at the point of purchase. As such, customers at that point have an opportunity to interact with the brand. Further, delivery trucks are huge such that the message sits atop the traffic on highways. It affords the billboards enough exposure to drive high conversion rates.
Targeting customers wherever they are
There are millions of delivery trucks on American roads every day. As of December 2019, Amazon had 20,000 delivery trucks. Other companies like FedEx, U-Haul, and UPS have thousands of vehicles in their delivery fleet. All the trucks are branded such that wherever they go, they increase the awareness of the brand they represent. Having multiple trucks branded enables the brand to reach as many potential customers as possible.
Say, for example, that your business acquires and brands a delivery truck. For every delivery that the truck makes, people from new parts get to interact with the brand. Further, the delivery trucks enable businesses to target the exact audience with the message. This ability for precise targeting is critical to increasing conversion rates.
Another positive about truck side advertising is that there is no definite overage period. The banner can be removed and reused whenever the advertiser deems fit. Further, the size of the banner is only limited by the size of the truck. For a straight truck, the typical space for the banner ranges from 16' to 26' L x 7' to 8' H. On the other hand, the typical range for trailer vans is 28' to 53' L x ~8' H.