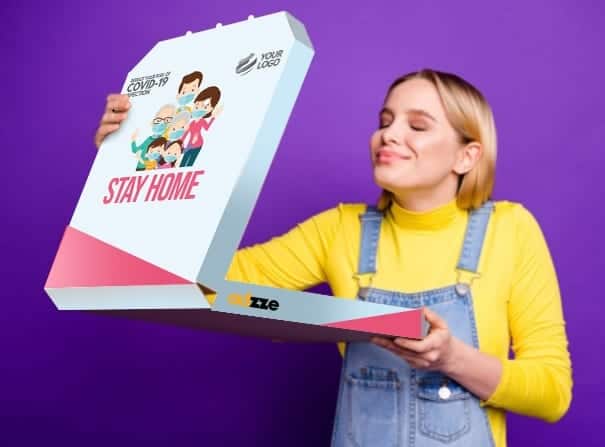 The Costs of Advertising on a Pizza Box and its Benefits
The costs of advertising on a pizza box:
Coronavirus Willl Force the Ad Industry to be More Sensitive
The after-effect of this development will be an unavoidable reduction in patronage for the billboard advertising companies. Billboard companies will eventually have to sit it out with the hope that they can still reclaim their market share in the end. However, smaller businesses and other brands that depended on their strategic displays to market their brands may not be so patient. Just as major clients like hoteliers, airlines, and cinemas are on pause mode, smaller brands are quickly pulling away and leveraging alternative media and in-home advertising to preach their brands.
Billboard companies may not only be counting their losses in billions of dollars, many of their customers might have moved on to embrace other more pocket-friendly advertising alternatives. These alternatives are indoor-directed, and have proven to be equally effective, perhaps even more effective than the conventional outdoor methods. Aside from the fact that they are more expensive, it is difficult to track engagement for out-of-home ads. In fact, small businesses face more challenges trying to get a marketing space in the highly competitive ad industry.
Do you need more modern ads?
Fortunately, Adzze's new age marketing strategies offer innovative ways to navigate the storm and help brands to take their message into the homes of the consumers. Unique advertisement ideas have surfaced across the landscape; these strategies include placing ads pizza boxes and door handles that can reach the consumers at their homes. As simple as they sound, they generate guaranteed impressions delivering the ads at consumer's homes.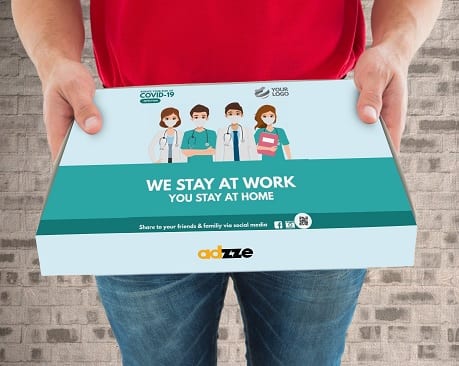 Small and medium sized enterprises in the US were urged to find innovative ways of effective advertising with little marketing budgets. They attempted to equalize their size-related disadvantages compared to large companies by means of unconventional ways of advertising, which they adjusted fast and flexibly, to changing market conditions
Pizza Box Marketing: how does it work?
The logo and message of the advertiser are printed on pizza boxes (or pizza box toppers) and distributed to the pizza venues you selected. The venues are recognized pizza chains so the advertiser has an exposure to reputable brands. The pizzerias deliver either in the hands of the consumer or at their homes reaching on average 45 min of brand exposure (average 15 min per person, average household of 3).
The advertisement is printed on pizza boxes (or pizza toppers) and shipped to the pizzerias that the advertiser selected. The advertising pizza venues distribute to the consumers locally or they deliver at their homes. These venues are recognized pizza chains, so the advertiser has exposure to reputable brands. The pizza box ads get delivered in the hands of the consumers at their homes reaching on average 45 min of brand exposure. Sometimes the consumer leaves the pizza in the fridge generating additional exposure. On average, each Pizza Box Advertising venue delivers 2,000 pizza box ads per month with an estimate 1.8M impressions/month.
There are few reasons why marketers would choose Pizza Box Marketing instead of other traditional media vehicles:
High Brand Recall: Consumers are overwhelmed with digital ads that they see for a fraction of second and barely remember them. The attention span for digital ads is minimal to make them remember. The pizza box ads create a surprise effect making it more memorable. Studies show that this type of ads can evoke an 80% recall rate (8 out of 10 households individuals remember to see an ad on pizza boxes)
Low Cost: The budget used to place a 1 billboard on a high traffic highway for 1 month can be re-allocated to distribute 60,000 pizza boxes. This is sufficient to cover all households of a small town in the USA.
High Return on Advertising Spend: the average ROI is 2.5X. This means, for every 1 dollar the advertiser invested in a Pizza Box Marketing campaign, they received at least additional 2.5 dollars of sales.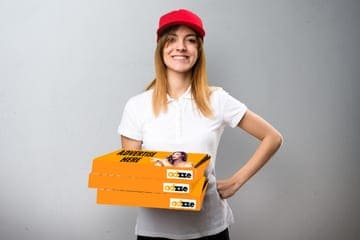 The unconventional and unexpected nature of this type of advertising enables better perception and assimilation of the message. The ad is placed on the center of the box generating guaranteed impressions. Sometimes the consumer leaves the pizza in the fridge generating additional exposure and more impressions. On average, each pizza venue delivers 2,000 ads per month with an estimate 1.8M impressions/month.
The Costs of Advertising on a Pizza Box
Advertising on pizza boxes is one of the most straightforward yet successful marketing techniques. The advertiser places the logo of the brand that needs visibility as well as the message on pizza boxes. Then, the distribution of boxes to pre-selected pizzerias, where a specific demographic of customers buy pizza. On the contrary, advertising pizza is low cost. With the same rates for one 30-second TV commercial, a business can produce close 350,000 pizza boxes. These can be sent to about 200 locations where each customer will have at least 30 minutes of peaceful time with the message.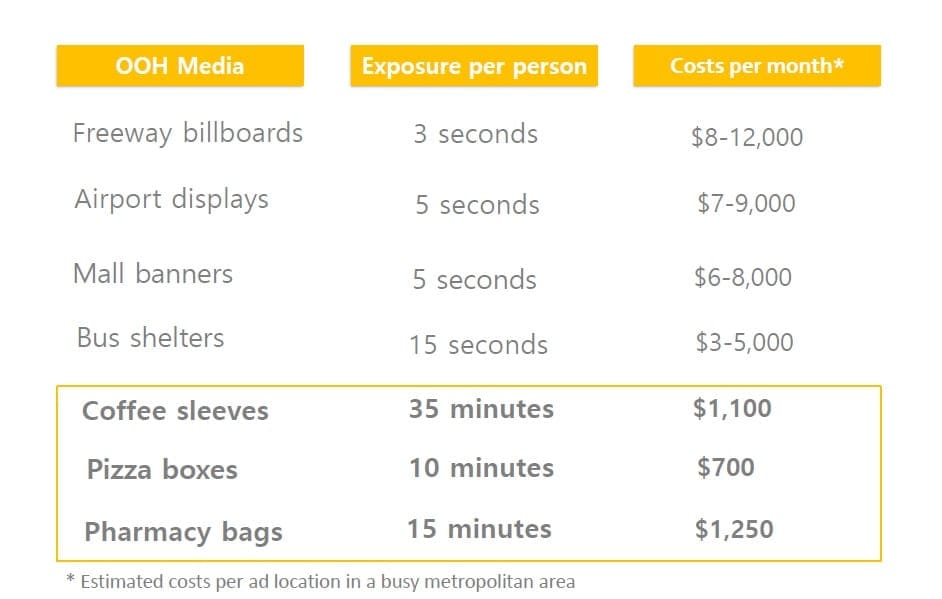 For purpose of comparison, consider the costs of a traditional OOH as benchmark, e.g. Billboards. The costs of billboards depends on format, circulation and demographics. Traditional billboards can cost between $14,000 and 20,000/month in larger markets reaching on average 80-100,000 drivers per month. For the same cost, the advertiser can place its message on 65,000 pizza boxes at 32 different venues during the same time.
Now compare the benefits, what would you prefer: reaching 100,000 distracted drivers (who you can't be sure they looked at your billboard) or reaching 65,000 family households with a compelling message that they will look at while enjoying their pizza?
Adzze has been working with its clients to adapt to a more sensitive message. The team has been extending the capabilities to offer advertising options that can reach the consumers at their safest place: at home