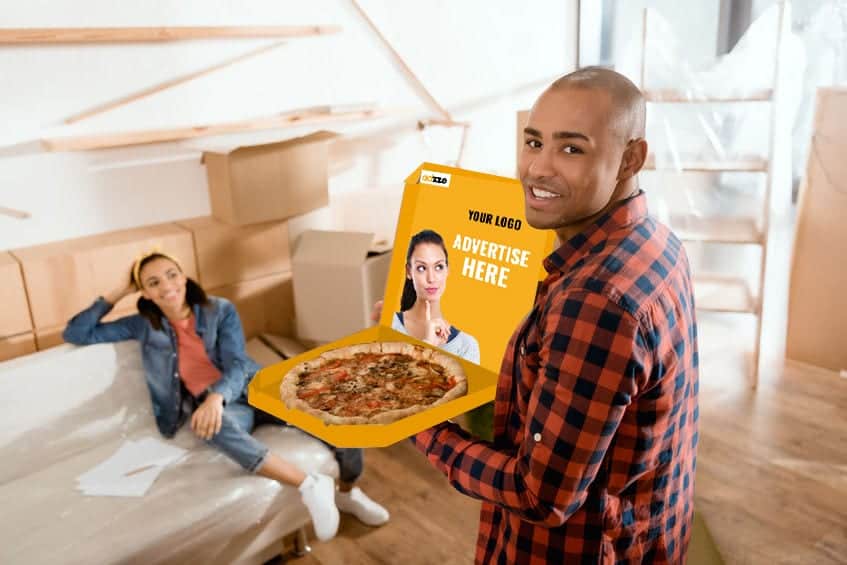 Pizza Box Top Advertising: is it an Unconventional OOH?
How does Pizza Box Top Advertising work?
The logo and message of the customer are printed on pizza boxes (or pizza box toppers) and distributed to the pizza venues that were selected. The venues are recognized pizza chains so your advertisement have a exposure to reputable brands. The pizzerias deliver either in the hands of the consumer or at their homes reaching on average 45 min of brand exposure.
High exposure to consumers
Just by looking at the numbers, marketers can see the reasons why pizza box advertising can produce an outstanding return on investment. In the United States alone, there are more than 80,000 pizza retailers and that figure includes the large national chains. Of that 80,000, approximately 65 percent are small mom and pop organizations or small, local chains. Additionally, 97 percent of all Americans consume at least one pizza over the course of a month. With the average family eating 30 pizzas per year, there are approximately 1.9 billion pizzas sold each year.
Cost effective
On average, each pizza venue delivers 2,000 ads per month with an estimate 1.8M impressions/month. This is 4 times more impressions than a freeway billboard for 7-10 times less costs.
Improvement of audience engagement
As technology continues to evolve, OOH will shift towards to digital. Pizza box top advertising can also build interactive features as QR codes,  coupons and even augmented reality.
Some examples:
Increment revenues: use coupons on your Pizza Box Top advertising to boost the sales and track the ROI of your program
New product launch: make your audience aware of the new product or service launch
Promoting a new location: target specific Zip codes to raise awareness of the new location your local business is opening
Sports/Fitness: remind your audience to check your fitness business and spend the pizza calories
Entertainment: promote your recreational services to families in the specific target areas
Pizza Box Top Advertising is an unique way to reach your audience in their home