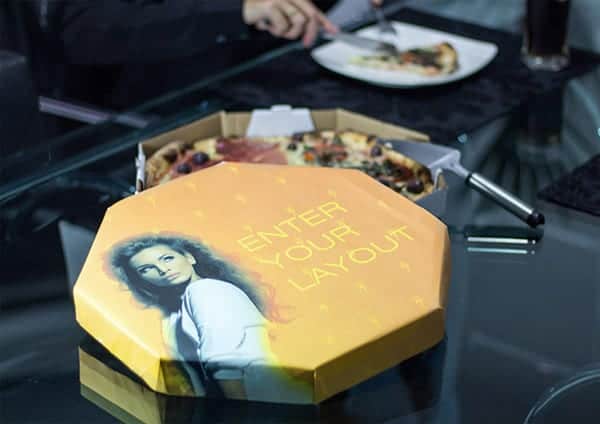 Advertising on Pizza Boxes v.s. Traditional Media – Key Advantages
Advertising on pizza boxes is marketing concept that is a sub-segment of Ambient Marketing. This type of media relies on the placement of advertising in unusual and unexpected places (serving as vehicles) often seen as unconventional execution and being first or only ad execution to do so. These vehicles can be pizza boxes, drink coasters, shopping bags, coffee cups, door hangers, dry cleaner hangers, prescription bags.
Ambient media refers to the usage of publicity-grabbing events by utilizing contextual elements of the target groups and its been demonstrated by research studies (1,2) to demonstrate better perception and engagement in comparison to traditional media.
Pitfalls of the traditional media
Digital media is great for reaching a specific set of consumers with targeted messages quickly. However, due to the short attention span of online users it delivers low impact and brand recall. Recently, a study from Bain & Company (3) found out that digital advertisement are less effective than traditional media in terms of getting consumers to remember it.
Recent studies by the research firm Lumen confirmed that only 9% of digital ads are viewed for more than a second (4). The study has used laptop-mounted eye tracking cameras on 300 consumers' laptops to collect visual data on what they notice when they are online. During the study it were recorded 30,000 minutes of data, with evidence relating to around 15,000 digital ads.
Traditional TV viewing has dropped from 25 hours a week in 2011 to just shy of 16 hours a week in 2018 mainly by younger audiences. Nielsen's 2018 Audience Report (5) found that Americans 18-34 averaged about 2.5h of traditional TV viewing per day – significantly less than in 2011. Pay-TV penetration is expected to fall to 70% by 2020.
Most of the consumer  ignores TV commercials. Arris' Consumer Entertainment Index surveyed 10,500 respondents from 19 countries, including the U.S., China and Brazil, on their media consumption habits. 84% of surveyed viewers admitted that they want to fast-forward through TV ads, and 60% of surveyed viewers would make the effort to find and download TV shows to avoid advertisements.
Advertising on pizza boxes: how does it work?
The logo and message of the advertiser are printed on pizza boxes (or pizza box toppers) and distributed to the pizza venues. The venues are recognized pizza chains so the advertiser will have a exposure to reputable brands. The pizzerias deliver either in the hands of the consumer or at their homes reaching on average 45 min of brand exposure.
Advertising on pizza boxes can reach a large audience
In the United States alone, there are more than 80,000 pizza retailers and approximately 65%t are small mom and pop organizations or local chains. Additionally, +90% of all Americans consume at least one pizza over the course of a month. With the average family eating 30 pizzas per year, there are approximately 1.9 billion pizzas sold each year.
Stronger impact on the consumers
The unconventional and unexpected nature of this type of advertising enables better perception and assimilation of the message. The ad is placed on the center of the pizza box generating guaranteed impressions. Sometimes the consumer leaves the pizza in the fridge generating additional exposure and more impressions. On average, each pizza venue delivers 2,000 ads per month with an estimate 1.8M impressions/month.
Promote engagement
Advertising on pizza boxes can also be personal, interactive, and valuable. By placing QR codes or contests on them, marketers give consumers reasons to continue to interact with the pizza box. Advertising on pizza boxes means that your ad cannot be ignored because the only way to the pizza is through the box. Additionally, if the ad is well produced it will grab the attention of those in the household since it is there in front of them. Pizza box advertising can be targeting, creative, and inexpensive while still reaching the desired audience. For more details read our article Pizza Box Advertising: How effectively reach consumers at home
Advertising on pizza boxes is cost effective
The costs of billboards depends on format, circulation, demographics, and impressions. Traditional billboards cost $14,000-20,000/month in larger markets.
With the cost of 1 billboard/month, the advertiser can place its message on 60,000 pizza boxes at 30 different pizzerias during the same period of time.
Sources:
Luxton, S. What is called Ambient Advertising? Monash University. 2000
Gambetti, R. C.. Ambient Communication: How to Engage Consumers in Urban Touch-Points.  California Management Review, 2010
Bain & Company, Online or Traditional, What's is Better for Brands? Nov, 2016
Marketers Continue to Waste Money as Only 9% of digital Ads are viewed more than 1 Second. Lumen Research, 2016
Nielsen's 2018 Audience Report. The State of Traditional TV: Updated With Q3 2018 Data Arris' Consumer Entertainment Index