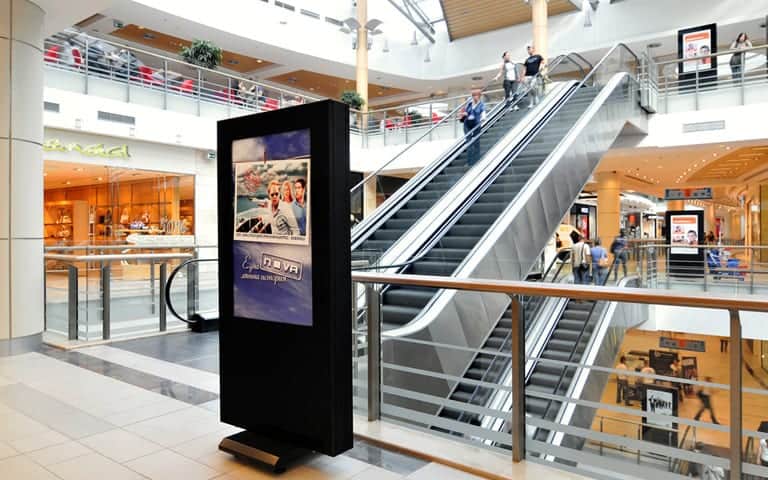 Advertising in Malls is Declining: What is Next?
Advertising in Malls is declining.
The impact of COVID-19 on the Advertising Industry
In a recent eMarketer interview of Eric Haggstrom, a forecasting specialist with the company, he provided an interesting insight into how the coronavirus pandemic is affecting eMarketer's search ad spending forecasts for companies in the US. Hospitality, travel, and retail industries are expected to pull back the most on ad spending until the virus is contained. For the retail industry, the effect is also rooted in supply chain disruptions. Cutting down on ad spends is one major way companies have mitigated the economic impact of COVID-19. Eric Haggstrom forecasts a mere 3% growth rate in the first half of Q1 2020, for the search ad sector which is a significant depreciation compared to last year's forecasts or that of January 2020. As of late March, Market Influencer reported a 65% decrease in ad spends by the travel sector. All forms of advert placement including radio and TV have had fair shares of the declining campaigns. Perhaps, the future isn't so bleak for advertisers because a recent study by apptopia showed that more consumers are resorting to online shopping — and not only for clothes but groceries too. Maybe, ad agencies may need to shift focus to the already packed social media space to jostle for their share of the market; but there`s also an opportunity to re-invent existing strategies.
Incorporated Augmented Reality to Mall Ads

Now you can incorporate Augmented Reality (AR) to your advertising materials adding life to your ads. When your AR Ad or Augmented Reality Ad comes in front of a user, it releases immense pleasure and excitement that make him go around again and again. Augmented reality marketing is beneficial in creating interactive ads to impress and interact with children and the young generation. AR marketing also helps in creating a solid emotional connection with the brand. Augmented Reality experiences deliver higher brand recall and increased purchase intent.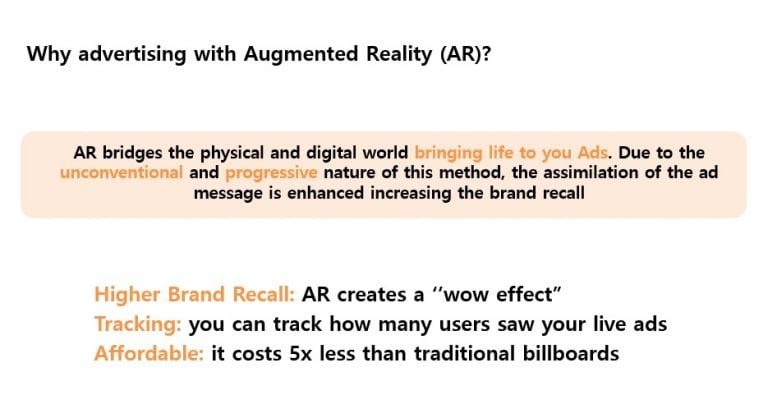 Augmented reality is the integration of digital elements into our real-world environments. In other words, it is a combination of both real and virtual worlds. The current value of the AR market stands at $3.5 billion, and it will grow 10x by 2028 (Source: Statista). 71% of consumers say they would shop more often if they used AR. AR has the unique ability to communicate details about the look and feel of a product that traditional photos just can't match. With AR, customers are better able to make confident buying decisions, which leads to increased satisfaction and strong customer loyalty.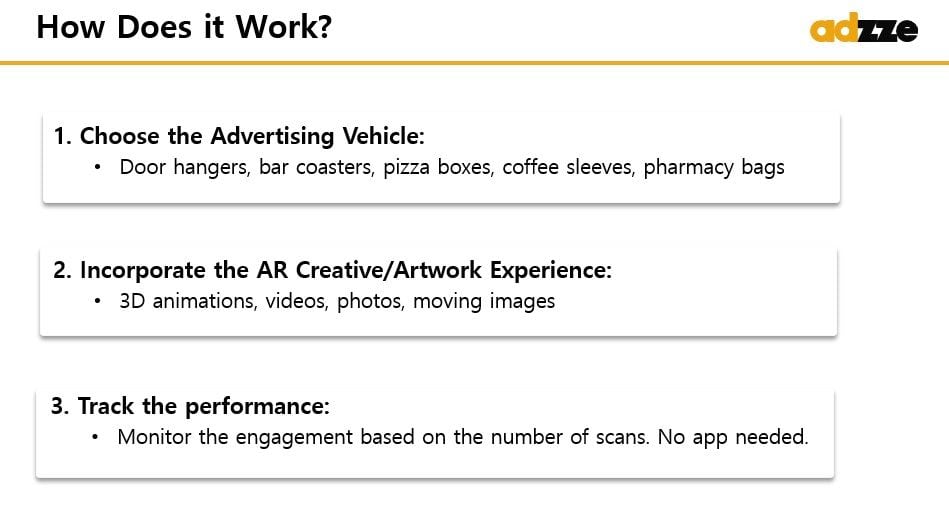 Advertising in Malls worked in the past 
Malls enjoyed popularity are favorite shopping and hangout joints since the 1970s to 2017. In this period, the number of brick-and-mortar shopping proliferated yearly across the US. Notably, the number of shopping malls grew from 37,000 in 1970 to 116,000 in 2017. Then digital advertising and online shopping struck!
Typically, mall advertising displays ads in high-traffic locations within the building. To attract more attention, the displays come equipped with illumination solutions. Other displays have their ads digitized to optimize the potential for visibility. Notably, the ad displays leverage imagery that arrests shoppers' eyes almost instantly. This kind of visibility is right for brand availability and facilitates targeted marketing. On average, illuminated ads attract up to 78.9% of shoppers strolling in the mall at any given time. One should expect high conversion rates from such visibility.
The after-effect of this development will, of course, be an unavoidable reduction in patronage for the mall advertising companies. These media companies may count their losses for months after. Digital billboard companies will eventually have to sit it out with the hope that they can still reclaim their market share in the end. However, smaller businesses and other brands that depended on their strategic displays to market their brands may not be so patient. Just as major clients like hoteliers, airlines, and cinemas are on pause mode, smaller brands are quickly pulling away and leveraging alternative media and in-home advertising to preach their brands.
Nevertheless, this mode of advertising fails to achieve its potential because of three significant factors. First is a lack of attention. When people go to malls, it is not always about shopping. A good number of the visitors are just there to browse around and to, probably, have time alone. Usually, malls are expansive, and they offer a spectacular view in terms of items on sale and design of stalls. While at that, many people miss ads, no matter how illuminated they are. Additionally, shoppers visit malls as a family. In such a case, it is difficult for the parents to notice ads due to struggles to control their children.
Mall Ads will become obsolete
Effective advertising vehicles should enable a clear way to track number of impressions.  Traditional  advertising in malls display lack of targeting and tracking possibilities. The fact that many highway drivers cannot focus on the ad message generate a  low engagement with the target audience.  The costs of billboards depend on format, circulation, demographics, and impressions. Traditional billboards have high costs, low ROI cost varies $14,000-20,000/month in larger markets.  Some cities imposed a ban of billboards due to visual pollution. Unconventional agencies provide alternatives to the targeting issues with approaches as mobile billboards, digital OOH, ads on trucks and other ads in places people don't expect to see as flags, backpacks, inflatable objects, gas pump and balloons.
Advertising in malls, at bus stops, and bus shelter advertising are fast becoming replaced by in-home advertising. The impact of COVID-19 has kept normally mobile citizens inside their homes. Hence, the best ways to reach your audience and maintain brand visibility will be to take your products and services to them indoors, as it will be clearly unprofitable to place adverts on billboards that no one is seeing.
Recently the Interactive Advertising Bureau surveyed nearly 400 media buyers and brands. The results were surprising: 74% think the coronavirus pandemic will have a larger impact on their advertising spend than the 2008 financial crisis. According to the President of Interactive Advertising Bureau, David Cohen, "Typically marketers will press pause for a moment, take a breath, assess the situation, replay and reevaluate."
Traditional out-of-home advertising is expected to take the biggest hit. The estimated ad spend decline is 51% for March and April and another decline of 41% for May and June 2020. Traditional OOH is largely impacted considering far fewer people are outside reducing the appeal and effectiveness of billboards and digital displays.
Do you need more modern ads?
Fortunately, Adzze's new age marketing strategies offer innovative ways to navigate the storm and help brands remain in business. Unique advertisement ideas have surfaced across the landscape; these strategies include placing ads pizza boxes and door handles that can reach the consumers at their homes. As simple as they sound, they generate guaranteed impressions delivering the ads at consumer's homes.
Now, imagine spending about $14,000-20,000/month on outdoor advertising and getting very low ROI. Compare this to spending the same amount of money on in-home focused advertising media. This is what we offer you at Adzze; an array of unique in-the-hand advertising strategies that place your brands in the hands of potential clients in their homes.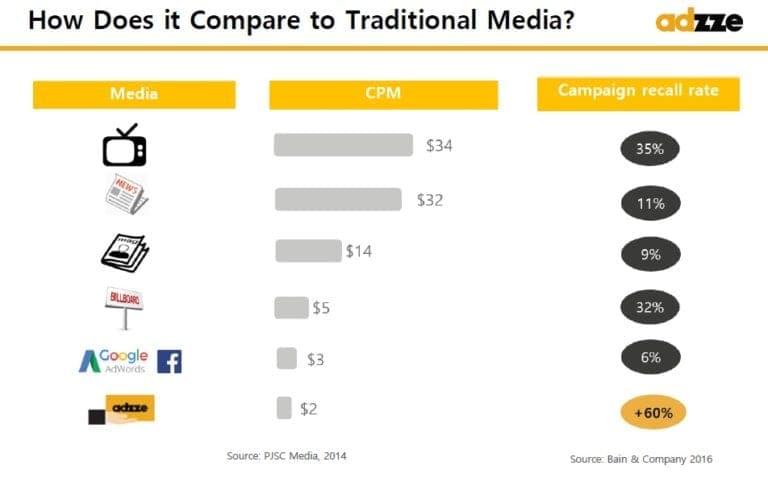 Adzze is currently shifting the advertising methods to a more sensitive approach by reaching consumers at the safest place: their homes.