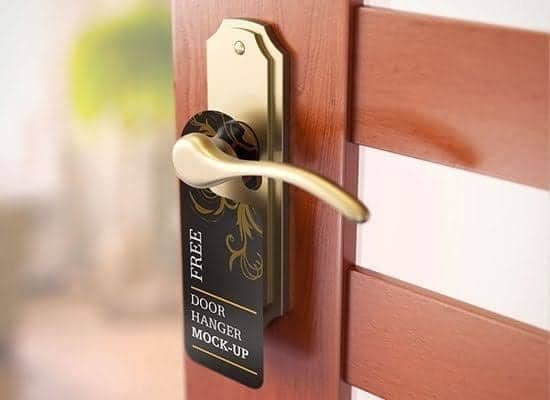 Can Door Hangers Distribution Earn Higher Conversion Rates Compared To OOH Ads?
Door hangers distribution: learn more about this concept.
In July 2019, Statista surveyed on brand awareness in the US, and the results were far from surprising. Notably, 100% of the respondents confirmed that they "pay particular attention to brands" when shopping. Why is this not surprising? Because brand awareness matters when it comes to attracting the right customer. As such, many companies carry out ad campaigns, including door hangers distribution, to increase brand awareness.
Why is brand awareness crucial?
Brand awareness, interestingly, does not only represent the popularity of a brand among the consumers. On the contrary, brand awareness is the extent to which the consumer base identifies with the business. The more customers are aware of your brand, the more they are likely to pick your services and products over competitors.
Nevertheless, making the customers aware of your brand is not an easy task. It involves a lot of money poured into advertising campaigns and promotions. According to estimates by Dentsu Aegis Network, the global ad spends should surpass the half-a-trillion dollar mark by the end of 2019. Also, eMarketer detailed that the amount of advertising money spent on digital platforms should exceed the traditional platforms by yearend 2019 in the US. Interestingly, eMarketer noted that digital ad spend will expand by 19% to hit $129.34 billion, representing 54.2% of the US total ad spend.
The shift in ad spend in the US speaks to the new reality, which is that digital platforms offer more brand awareness compared to traditional avenues. Interestingly, advertisers are continuously in search of platforms that produce more brand awareness with less effort and fewer expenses. Due to this desire, more straightforward ad campaigns like door hangers distribution will continue to gain popularity.
Door hangers distribution vs. out-of-home advertising
Out-of-home (OOH) advertising techniques like billboards are part of the traditional ad platforms. The popularity of the methods is falling mainly because of low conversion rates and high costs. For example, the cost of one billboard ad in Washington DC is between $14,500 and $45,000 for four weeks. More painfully, most ad agencies demand that businesses buy at least 50 ads, which pushes the costs higher.
In contrast, door hangers distribution is ridiculously cheap. The cost of producing 100 single-sided door hangers with full color ranges from $59.99 and above. Interestingly, the cost of one billboard ad for four months in Washington, DC, can produce 75,000 door hangers. If you were to distribute these, you are guaranteed to reach at least 75,000 customers. Also, this ad technique is unconventional, which pushes up conversion rates to levels billboard ads can only dream of.
Unlike traditional media, using door hangers is much more straightforward, cheap, and easy to target the audience. Door hangers enable the advertiser to place ads in unconventional places. For example, there is no way someone will miss a flyer hanging on the doorknob. Therefore, there is a full guarantee that your ad will catch the right eyeballs. According to this analysis, using this technique to reach the target audience is more effective because of the element of surprise.