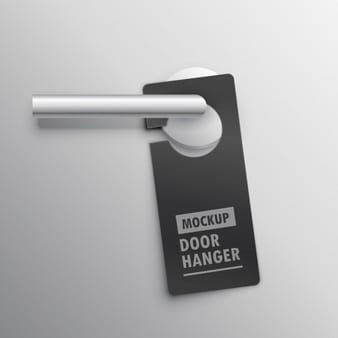 Why You Should Consider Door Hanging Flyer For Advertising
Door Hanging Flyer: learn more about this non-conventional tactics.
There has never been a time when businesses need visibility than today. According to Kantar Media data, ad spends in the US clocked $151 billion in 2018, a 4.1% jump compared to 2017. Notably, businesses are looking for ways to capture the attention of an increasingly distracted audience. That is why ad avenues like door hanging flyer is gaining attention across the industry.
Audience targeting is critical
The advertising industry is one of the most enduring but very dynamic. Traditionally, advertisers relied on print media and TV to reach as many people as possible. The effectiveness of these advertising avenues increased as more people installed TVs in their living rooms. Interestingly, the message in an ad could reach over 200 million people in the US, but without the guarantee of recruitment. It is because many TV watchers detest ads and view them as a nuisance.
The effectiveness of TV as a platform for advertising could be the reason behind falling TV ad spending. Interestingly, advertisers are migrating to alternatives like digital platforms because of increasing usage by the target audience. According to eMarketer, 2019 could be the year that digital media surpasses traditional media in ad revenue. Notably, digital media should account for more than 55% of total ad spending by the end of 2019. Nevertheless, digital media, like traditional media, suffers from a lack of attention and an inability for exact audience targets. Therefore, it is inevitable for advertisers to consider other alternatives like in-the-hand advertising.
Reasons to consider door hanging flyer
In-the-hand marketing is a novel technique that targets audiences in unconventional places. For example, putting an ad on door hanging flyer hits the audience unexpectedly. This element of surprise is crucial in attracting audience attention. This kind of marketing is quite unconventional as it captures the attention of the target audience thoroughly. Besides, the advertiser can pinpoint the section of the audience that is most relevant. For instance, if one wanted to advertise a retirement benefits product, one can target houses for the aging.  Since the ad appears on the doorknob, there is no way the target audience can miss the message
Use of the flyers enables advertisers to target a specific section of the audience. For instance, advertisers could place the flyers on doors to hotel rooms. Using data from the hotel, it is easy to make sense of the individuals that use their rooms. As such, one can easily come up with the profile of the target audience. There are several aspects to be considered while running a door hanger campaign, these 2 articles elaborate on the best practices: best practices and Door Hanger Delivery: Best Practices to Run a Promotion.
Statistics in the advertising industry shows that gaining brand attention is getting more expensive. For instance, Procter & Gamble alone spent $2.9 billion in ads in 2018. This amount is ridiculous, especially for small businesses. In contrast, door hanger advertising will cost you less while giving your business personalized attention. Interestingly, this personalized attention is what converts an individual into a customer.