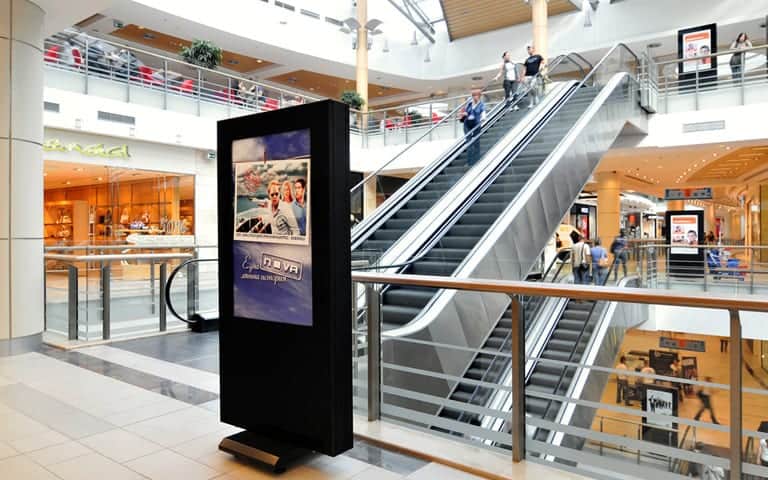 How Does Mall Advertising Compare To In-The-Hand Advertising Options?
How Does Mall Advertising Compare To In-The-Hand Advertising Options?
In 2013, a Nielsen report painted a rosy outlook for malls in the US, noting that they were growing brick by brick. Notably, malls had become less of a shopping center and more of social centers. As such, mall advertising was quite popular.
Malls enjoyed popularity are favorite shopping and hangout joints since the 1970s to 2017. In this period, the number of brick-and-mortar shopping proliferated yearly across the US. Notably, the number of shopping malls grew from 37,000 in 1970 to 116,000 in 2017. Then digital advertising and online shopping struck!
Does mall advertising guarantee attention?
Typically, mall advertising displays ads in high-traffic locations within the building. To attract more attention, the displays come equipped with illumination solutions. Other displays have their ads digitized to optimize the potential for visibility. Notably, the ad displays leverage imagery that arrests shoppers' eyes almost instantly. This kind of visibility is right for brand availability and facilitates targeted marketing. On average, illuminated ads attract up to 78.9% of shoppers strolling in the mall at any given time. One should expect high conversion rates from such visibility.
Nevertheless, this mode of advertising fails to achieve its potential because of three significant factors. First is a lack of attention. When people go to malls, it is not always about shopping. A good number of the visitors are just there to browse around and to, probably, have time alone. Usually, malls are expansive, and they offer a spectacular view in terms of items on sale and design of stalls. While at that, many people miss ads, no matter how illuminated they are. Additionally, shoppers visit malls as a family. In such a case, it is difficult for the parents to notice ads due to struggles to control their children.
In-the-hand advertising is more effective
Secondly, sometimes malls have excess in terms of ads. Since every advertiser is after more visibility, they struggle to station ads at any location close to shoppers. As such, shoppers experience visual pollution, which could be a distraction. With so much to concentrate in so little time, shoppers may end up not reading the messages on the ads.
In contrast, in-the-hand advertising enables advertisers to avoid the pitfalls that advertising in malls encounter. Say, for example, you place an ad on a coffee sleeve. On the one hand, the target audience will have the ad in their hands for the whole duration. Additionally, individuals are mostly at peace while taking coffee. As such, you are guaranteed close to 20 minutes of exclusive attention for the message on the ad.