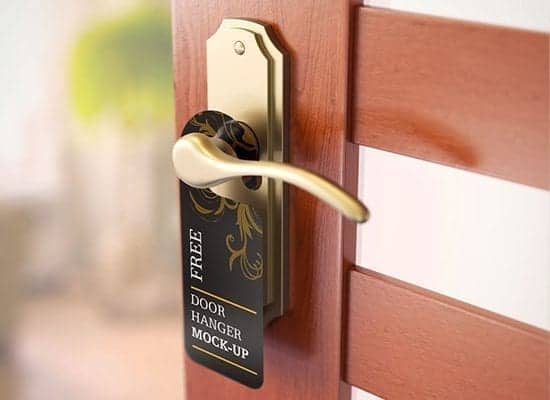 How To Ensure Proper Delivery Of Door Hangers
There is no doubt that traditional advertising media is declining. In fact, an eMarketer study showed US digital advertising media is now bigger than TV, billboards and other traditional mediums. As such, it is time for advertisers to consider alternatives like ambient marketing. One of the most popular ambient marketing strategies is delivery of door hangers to targeted audiences.
Best practices for delivery of door hangers
Indeed, door hanger advertising is simple and very cheap. With just $10,000, you can run an ad campaign going into months. On the contrary, this sum of money is not enough to advertise on TV even for 30 seconds. Granted, door hanger advertising is easy but could be unsuccessful if you do not follow best practices. Fortuitously, we offer some tips in this article.
According to this analysis, delivery of door hangers is an unconventional tactic, which the audience cannot ignore. Resultantly, a business can grow its brand visibility very fast using this technique. However, if you do not do this right, you risk antagonizing your brand with the consumers. As such, the first step is to ensure that the door hangers are beautifully done to excite the eyeballs. Let the design of the message and the brand's logo be unique. This way, the audience will love the door hanger from first sight.
Begin from a point of strength
Secondly, ensure that you do a personal delivery. If the ad campaign covers a large geographical region, you can hire a team and take it through intense training. Notably, the training session will be crucial to make the delivery team understand the primary strategy of the company. Further, the training is a chance to show the team the results that you expect. Additionally, this is an opportunity to teach the team how to approach the whole exercise. The idea is to maintain the highest standards of courtesy and professionalism.
When delivering the door hangers to the target audience's households, ensure that they hang on the doorknob. Usually, the doorknob is the first location that an individual looks at before opening the door. Therefore, the doorknob is the most strategic location on the door. Before kicking off the ad campaign, ensure that you have deep insights about the target audience. This means you have to precede everything a detailed research of the audience. Beginning from the point of knowledge is crucial if you want to achieve the objectives of the ad campaign.