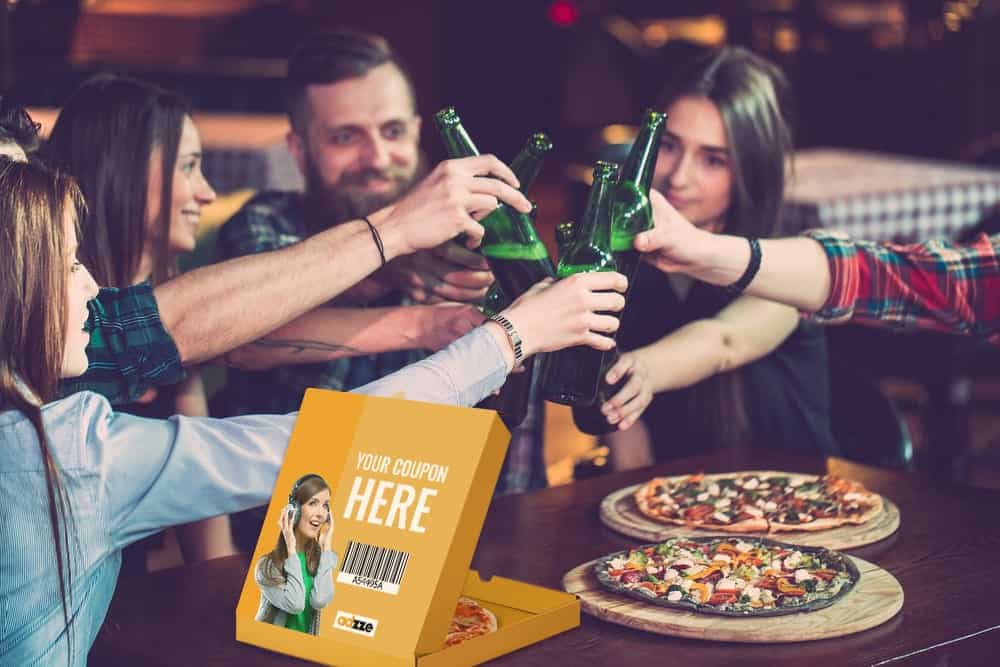 Advertising Boxes: an Unconventional Marketing Concept
Advertising boxes are emerging as simple and effective way to advertise brands reaching consumers in their household.
Traditional TV viewing has dropped from 25 hours a week in 2011 to just shy of 16 hours a week in 2018 mainly by younger audiences.. Nielsen's 2018 Audience Report (1) found that Americans 18-34 averaged about 2.5h of traditional TV viewing per day – significantly less than in 2011. Pay-TV penetration is expected to fall to 70% by 2020.
Viral Marketing
Many small and medium sized companies in the US were urged to find innovative ways of effective advertising with restricted budgets. They attempted to equalize their size-related disadvantages compared to large companies by means of unconventional ways of advertising which they adjusted fast and flexibly to changing market conditions  (3). At that time, these guerrilla instruments were considered revolutionary because they were substantially different to classical advertising. As consumers did not inevitably recognize guerrilla activities as advertisement, they belong to the so called "below the line"-measures (3).
One emerging trend is In-the-Hand Advertising. This concept relies on placing ads on consumables that the target audience can't ignore as they have to take them in their hands. Such consumables can be:Custom Coffee Sleeves, Door HangersPizza Box Tops, Printed Coasters, Pharmacy Bags, Hotel Key Cards.
Here some practical examples:
Advertising Boxes: Marketing tactics
Branded pizza advertising boxes is an advertisement strategy in which a company uses surprise and/or unconventional interactions in order to promote a product or service. The core principle of the branded pizza advertising boxes approach is to surprise consumers with unexpected activities in order to draw their attention to the advertising message. Surprise leads to a change in the cognitive activation. The placement of advertising in unusual and unexpected places often with unconventional methods and being first or only ad execution to do so. Thus type of message leads to enhanced assimilation of the message.
Advertising boxes: how does it work?
The message of the advertiser are printed on branded advertising boxes (or pizza box toppers) and distributed to the network of pizza venues. The venues are usually recognized pizza chains so the advertisement has an exposure to reputable brands. The pizzerias deliver either in the hands of the consumer or at their homes reaching on average 45 min of brand exposure.
The ad is placed on the center of the pizza advertising box generating guaranteed impressions. Sometimes the consumer leaves the pizza in the fridge generating additional exposure and more impressions. The unconventional and unexpected nature of this type of advertising enables better perception and assimilation of the message. Branded pizza boxes generate more impact than traditional OOH media. On average, each pizza venue delivers 2,000 ads per month with an estimate 1.8M impressions/month.
For purpose of comparison, consider the costs of a traditional OOH as benchmark, e.g. Billboards. The costs of billboards depends on format, circulation and demographics. Traditional billboards can cost between $14,000 and 20,000/month in larger market. For the same cost, the advertiser can place its message on 65,000 branded pizza boxes at 32 different venues during the same period of time.
Source:
Nielsen's 2018 Audience Report. The State of Traditional TV: Updated With Q3 2018 Data Arris' Consumer Entertainment Index
Arris' Consumer Entertainment Index Survey
Kimmel, A.J., 2005. Introduction: Marketing Communication in the New Millennium. In: Marketing Communication-New Approaches, Technologies and Styles, Kimmel, A.J. (Ed.). Oxford University Press, Oxford, pp: 1-6.