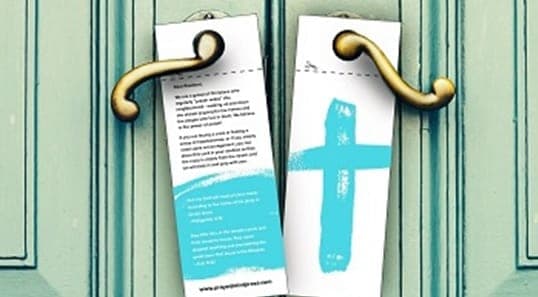 The Eye-Opening Benefits Of Using Door Hangers For Marketing
Business owners and marketers often rely on out-of-home (OOH) media for advertising, and as much as we know that this strategy has its benefits, there are still many more amazing ways to reach your target audience with your message and drive more sales. The use of door hangers for marketing has been around for quite some time, and has stood the test of time because it is an effective advertising tool. More interestingly, this method does not require expensive budgets. Instead, you spend less and drive more sales from more specific targeting.
Why Should Your Business Use Door Hangers For Marketing?
The beauty of using door hangers for marketing is in the fact that you deliver your brand message directly in front of your target audience in such a way that they cannot miss it. Door hangers are basically small, neatly cut rectangular sheets that bear ads in appealing designs. These sheets or cards are then hung over door handles by means of a little hook carved into the paper at the top. The positioning of these door hanger ads makes them impossible to miss, especially when they are placed in front of people who need what your business offers. This is why they`re great for promoting local events and businesses.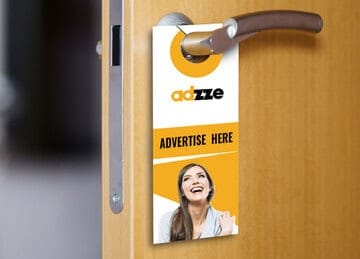 For instance, if you run a local pet handling store and you desire to increase your patronage, a simple way to generate more impressions and drive in more sales is to print and distribute door hangers in houses of people you want to reach. You may perhaps want to first find out what their tolerance level for pets is; how many residents in that location have pets or desire to have one: and their age range. This is called researching the demographic of your target audience. The parameters can be tweaked to include other criteria that are specific to your business. That way you`ll get a better idea on what to expect in terms of conversions and sales. You may even decide to target a different location eventually.
Furthermore, you can use door hangers for marketing in a time-efficient manner. If your business offers services that are required during specific times of the year or your company intends running a promo, flash sales, or wants to offer discounts, door hangers come really handy.  In addition to all these, using door hangers for marketing offers you a great chance to measure the performance of your ads. Unlike conspicuous billboards which people see and forget, using door hangers ensures your ads are not out of the sights of your target audience for a longer time.
Finally, the use of door hangers is a pocket-friendly alternative to digital ads. Without spending too much, you can create highly-targeted ads at relatively low costs. For small businesses which cannot afford large adverts, yet desire to boost brand awareness and sales, using door hangers for marketing is definitely a strategy you should try out.