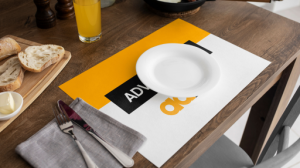 Enhance Your Business Strategy with Creative Placemat Advertising
If you want your business to grow constantly, then you need to be consistent. When it comes to business advertisement strategy, you have to think outside the box to produce visible outcomes. If you want to get the best results with creativity and an inexpensive way, then incorporating creative placemat advertising into your business strategy is the ideal way. Placemat advertising is quite popular and is the best way to attract a large number of people on a daily basis.
Here are some significant benefits of using creative placemat advertising for your business, which we are going to discuss:
Target Your Audience Ingeniously Through Creative Placemat Advertising.


Creative placement advertising works by placing your advertisements in compelling places where people are piqued. Placemats are a great way to advertise, especially in restaurants or cafes. Colors and eye-catching graphic designs can be added to advertising placemats to pique the interest of potential customers. People in cafes or restaurants usually have at least 15 to 20 minutes of free time while waiting for their order to arrive. People are scrolling through their smartphones or looking around for something interesting to do to pass the time. So why not put creative placemat advertising in front of them so they can give advertisements their undivided attention? It will result in a positive ROI (return on investment). You can target your audience very smartly and on a daily basis with placemat advertising to get visible results.
Increase Brand Awareness With Creative Placemat Advertising
People have adapted to eating outside of their homes due to work or simply because they want to. According to a US Department of Agriculture survey, 50% of people prefer to eat in restaurants or cafes. This means that approximately 196 million Americans, if not more, rely on food obtained away from home (FAFH). It is a large group of people, and it is the best opportunity to raise brand awareness through creative placemat advertising. To get noticeable results, place the advertisement placemats on a table that is visible to customers in a restaurant or cafe.
Incorporate Augmented Reality (AR) Into Creative Placemat Advertising.

Augmented reality is the ideal way to put life into any advertising strategy. You can opt for AR to increase interaction and thus visibility. The placemats are placed on the tabletops in restaurants or cafes. And the people coming to get their lunch or dinner would have to wait for approximately 20 to 25 minutes. Moreover, they would have plenty of time to read the advertised placemats. Incorporating AR into placemat advertising would result in high exposure. People can scan the placemat and see your advertisement.
Concluding words
Creative placemat advertising is the best advertising strategy to achieve positive results at an affordable rate. You can connect with 1,000 potential customers each month for USD 15,000. However, you will get a TV commercial of 30 seconds in the US at the same rate. Adzze has always aimed to bring creative advertising ideas to better results.