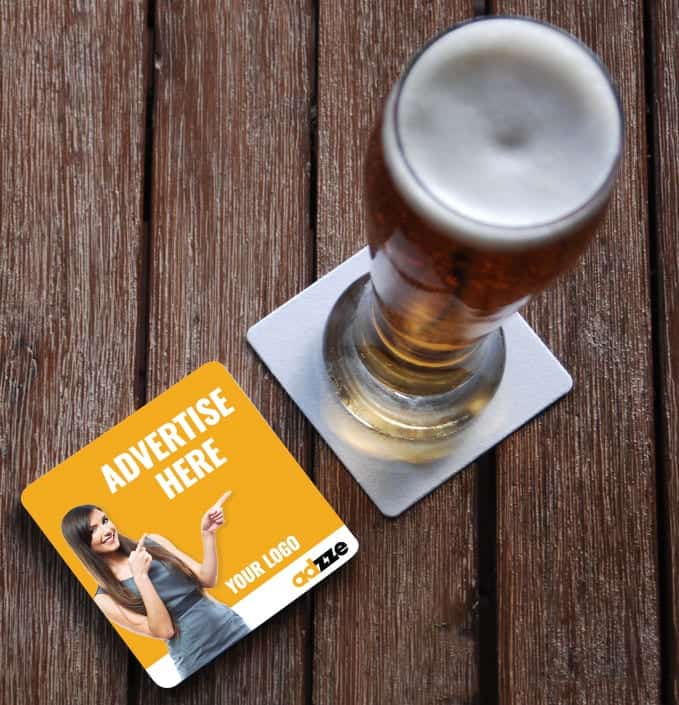 Advertising Bars: Leveraging a Relaxing Environment for your Ads
Advertising bars attracts more attention than digital
According to recent Accenture research, the share of buyers' budget allocated to digital and mobile advertising is now equal to their budget for television (1). Despite the digital hype, there are several pitfalls that are still unaddressed. According to Lumen Research (2), only 4% of  digital ads are viewed for more than 2 seconds and a mere  9% are viewed for more than one second. The study covered the population of 300 consumers's  laptops generating data on 15,000 online ads leveraging eye-tracking technology.
New concepts have been emerging to address the engagement of the audience and the increase potential brand lift. In-the-hand advertising is a sub-segment of ambient advertising that is based on placing advertisement on unusual items or in unusual places where people wouldn't normally see it. An example is Drink Coaster Advertising
Advertising bars: how does it work?
The logo and message of the advertiser are printed on bar/restaurant coasters and distributed to the venues (bar or restaurants) that the advertiser select. Specific targeting is enabled with an in-house technology to profile the demographic region and pick addresses according to the media plan.
The venue places the coasters on the dining or bar tables generating a direct impact on consumer who receives the message in their hands. This enabled guaranteed impression as they have to take the coaster in their hands. Approximately 1,500 coasters/month are distributed by each venue generating estimated 0.7M of impressions.
Advertising Bars: eliminate the negative impact of visual pollution
Billboard are widely known as major contributors to visual pollution.  The negative impact of billboard advertising on local quality of life and enjoyment of public spaces has been broadly researched (3). In 2015 several cities attempted to ban billboard advertising. First it was São Paulo, then Chennai,   Grenoble, Tehran, Paris and even New York initiated movements to replace or ban outdoor advertising (4).
Drink Coaster Advertising is like a small moving billboard that the target audience will touch it. Drink coaster ads can be very pleasant, creative and surprise the consumer in a relaxing environment. There is no impact on visual pollution since the ads are so small and noticed mostly by the people who handles it.
Advertising Bars: benefits
There are several  disadvantages of using billboard  as a way to advertise a business including very brief exposure time. The stationary nature of billboards offer a short attention span that limits the perception and assimilation of the message. Many commuters are exposed to several billboards each day. The advertisement becomes easy for drivers to ignore it.
Drink Coaster Advertising can not be ignored. The coasters are given in the hands of the audience and placed under their drinks. Each drink coaster can be viewed by on average 4-6 other people in a relaxing environment enabling the audience to better assimilate the message.
More affordable than traditional media  
Billboards in busy metropolitan areas might vary from $8,000-$20,000 per month. With the same dollar value, the advertiser can place 50,000 bar coasters in 33 different bar/restaurant locations causing a significant impact on  200,000 consumers and more than (estimated) 24M impressions.
In addition, most billboards require advertisers to enter into long-term contracts. If the media strategy requires multiple messages delivered at specific times, billboards cannot deliver.
Conclusion
Despite the hype of the digital era and the glamour toward to billboards, these advertisement media have been proven to be ineffective and expensive in certain media placements strategies. Drink Coaster Advertising might initially seem to simplistic but the impact on the audience attention and brand lift can not be underestimated. Other type of vehicles can be leveraged as door hangers, coffee cups, hotel key cards, pizza boxes, shopping bags, valet tickets.
Sources:
1. McMahon, et al, 2016. The Future of Advertising. Accenture Study
2. Marketers Continue to Waste Money as Only 9% of digital Ads are viewed more than 1 Second. Lumen Research, 2016
3. Chmielewski, et al, 2016. Measuring visual pollution by outdoor advertisements in an urban street using inter-visibility analysis and public surveys. International Journal of Geographical Information Science.
4. Madahwi. The Guardian, 2016. Can cities kick ads? Inside the global movement to ban urban billboards
4 Reasons Why you Should Consider Advertising on Coffee Sleeves