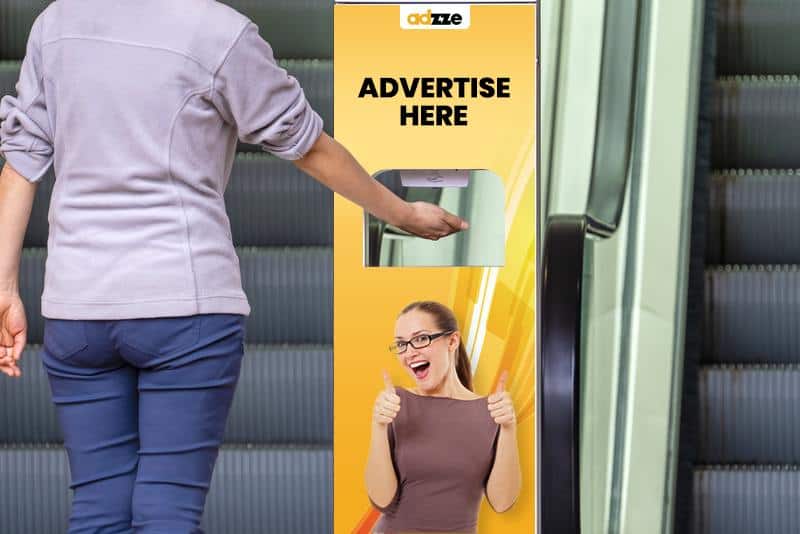 Effective Marketing with Sanitizer Dispenser Ads in Pharmacies
Choosing the right advertising method for pharmacies can feel overwhelming. However, at this time of the pandemic, marketers within the pharmaceutical industry can reach their target audience through sanitizer dispenser Ads.  This is considering that the public is already aware of the importance of sanitizing their hands on a regular basis. Therefore, reaching the target audience has never been easier than it is right now.
Are you wondering how sanitizer dispenser ads in pharmacies works? In this post we look at how the concept of sanitizer dispenser ads in pharmacies is being deployed by leading pharmaceutical brands. Further, we explain the advantages of sanitizer dispenser ads in pharmacies. Keep reading to discover the reasons your brand should switch to sanitizer dispenser ads.
The Concept of Advertising on Hand Sanitizing Displays

Hand sanitization is one of the methods that people have been urged to keep practicing in order to stop the spread of Coronavirus. As the CDC, WHO and regional governments continue to emphasize the importance of hand sanitization, hand sanitization stations are being up at every corner around the public places. The objective is to provide people convenience when it comes to sanitizing their hands. For advertisers, this is an excellent opportunity to target their potential audience. A great approach involves putting up sanitizer dispenser Ads in pharmacies. Therefore, targeting sanitization stations within locations like CVS can be a strategic approach for reaching patients who are about to purchase certain medication.
What Are the Advantages of Sanitizer dispenser Ads in Pharmacies
Sanitizer dispenser ads in pharmacies present a great opportunity for reaching your target audience. Here are some of the top advantages for deploying sanitizer dispenser ads in pharmacies.
1.      Provides Easier Targeting
One of the top benefits of sanitizer dispenser ads in pharmacies is that the approach provides easier targeting. The Advertiser can choose the pharmacies that are within the reach of target audience. Therefore, if the target is students within a certain region, all that the advertiser needs to do is identify the pharmacies within that region and place the ads. That means that the advertiser can be deliver the advert to the right locations, attracting the right audience.
2.     Builds Brand Recognition
Another top advantage of using the sanitizer dispenser Ads in pharmacies is the ease of building brand recognition. Consider that sanitizer dispenser ads in pharmacies reach the audience at the time they are eager to use the sanitizer dispenser. Therefore, the advert is hard to overlook, meaning the message is delivered effectively. In that regard, the target audience will recognize the brand easily, when they are ready to make a purchase.
3.     Non Intrusive
Sanitizer dispenser Ads in pharmacies convey a brands message clearly and does not enter the customer's personal space. Therefore, the advert is well received by the customers, and to some extend the customer takes time to look at the advert.
Conclusion
Take advantage of the sanitizer dispenser Ads in Pharmacies today. At Adzze, we have built the capacity required to deliver effective sanitizer dispenser Ads in pharmacies. For consultations and free estimate, contact us today