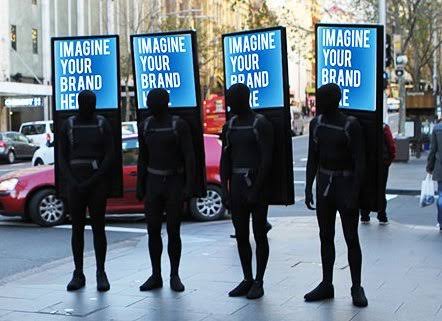 How Do Walking Billboards Compare To In-The-Hand Advertising In Terms Of Message Assimilation?
Walking billboards: learn about this new tactics.
The Impact of COVID-19 on the Advertising Industry
As the economic impact of COVID-19 continues to unfold, brands and agencies need to re-image their advertising methods. The out-of-home (OOH) advertising players will need to rethink their strategies before the damage deteriorates to them bleeding clients too. Traditional billboards will not be effective anymore as the consumers will be taking a more careful approach and spend more time in their homes. So fewer people will be outside and less impressions will be generated by outdoors advertising. Traditional OOH will be replaced by in-home advertising.
According to a survey conducted by the Interactive Advertising Bureau (IAB) it is believed that traditional out-of-home advertising is expected to suffer (Forbes) an estimated ad spend decline of 51% for March and April and a decline of 41% for May and June.
Adzze has been re-thinking the advertising tactics adapting to a more sensitive message. The team has working on extending its capabilities to offer advertising concepts that can reach the consumers at their safest place: at home. One of these methods uses pizza boxes as advertising space. Think of this as small moving billboard that gets delivered at the consumer's home. Studies demonstrated that this type of ads can evoke an 80% recall rate (8 out of 10 households individuals remember to see an ad on the pizza box) with an average ROI of 150%. This means, for every 1 dollar the advertiser invested in a pizza box advertising campaign, they received at least additional 2.5 dollars of sales. For more details, see the article Estimating the ROI of Pizza Box Marketing.
In the advertising industry, innovation is necessary to keep ad avenues relevant. It is especially critical in the age of the internet where digital platforms are becoming increasingly the most preferred ad avenues. Interestingly, out-of-home (OOH) advertising continues to grow due to innovations like walking billboards and digital billboards.
Out-of-home advertising is growing faster than TV
Billboards are among the oldest advertising platforms alongside newspapers. Nonetheless, the internet revolution threatened to sweep away traditional advertisement platforms and to render them ineffective. In a sense, the revolution is happening. According to eMarketer, digital ad spending in the US could soon surpass TV ad spending, the declining king of the advertisement industry.
Interestingly, not all traditional ad platforms are falling out of favor. Out-of-home (OOH) advertising is one section of traditional ad media that is weathering the internet storm. Notably, OOH advertising expanded by 4.5% in 2018, despite a general decline of traditional ad media. By the end of 2018, OOH had recorded growth for 35 consecutive quarters. Further, the internet as an avenue for advertisement grew by 15% in 2018, followed by OOH at 3.1%, 1.8% for TV, and 1.2% for radio. Unfortunately, newspapers as advertisement media contracted by 6.8% and by -72% for magazines.
The resilience of OOH is the introduction of digital OOH advertising. By the end of 2018, digital out-of-home represented 29% of the total revenue for the OOH industry. Notably, WARC, a marketing intelligence company, expects digital OOH to grow at 10% annually between 2018 and 2021. According to WARC, the driving force for the growth is the fact that it is hard to ignore digital billboards.
Other innovations that make OOH resilient are walking billboards. Notably, this ad platform is eco-friendly and results in a close encounter that generates more engagement. Worn well, this kind of ad platform is simple and attracts much more attention.
In-Home Ads with Door Hangers

During this crisis marketers will have to adapt and to stay on top of the latest trends. Its critical to improve type of advertising message shifting it to more sensitive perspective. The business of marketing is changing in the age of COVID-19. Whether its effects are brief or prolonged, marketers need to be nimble in these challenging times, and pivot when needed while optimizing performance throughout the crisis.
A noticeable new normal in consumer behaviour is the increased demand for food delivery services. According to NPD, 48.5% of all restaurant spending was for off-premise orders in the past 12 months and this is expected to accelerate during the lockdown.
Adzze has been working with its clients to adapt to a more sensitive message. The team has been extending the capabilities to offer advertising options that can reach the consumers at their safest place: at home.
 Your advertisement is printed on door hangers and distributed to the households in the zip code or areas that were selected according to the marketing campaign. Adzze technology solutions are used to target demographic profiles such as income, age, ethnicity, marital status, so that we hit your exact target-market ensuring the door hanger delivery. In addition, the segmentation method enables to evaluate annual spend criteria so that you have a better insight into the spend behavior of the target audience.  The consumers will be positively surprised if the door hanger brings them value as coupons or discounts. The advertiser must partner with the capable door hanger distributors to ensure to track the door hanger delivery to the targeted addresses. Typically, the return of the  Door Hanger Advertising investment is 3x, this means for every $1 invested, the advertiser receives $3 back (you can see more details on the ROI calculation at the end of this article).
Walking billboards vs. in-the-hand advertisement
Most walking billboards come with LED lights so that they can attract maximum attention. Further, the simplicity of the technique means that it is cheap to deploy. However, in-the-hand advertisement is superior when it comes to message assimilation. It is because it employs guerilla tactics, tactics that are unconventional and make the consumer feel ambushed. As such, there is a higher chance that the consumer will notice and assimilate the message.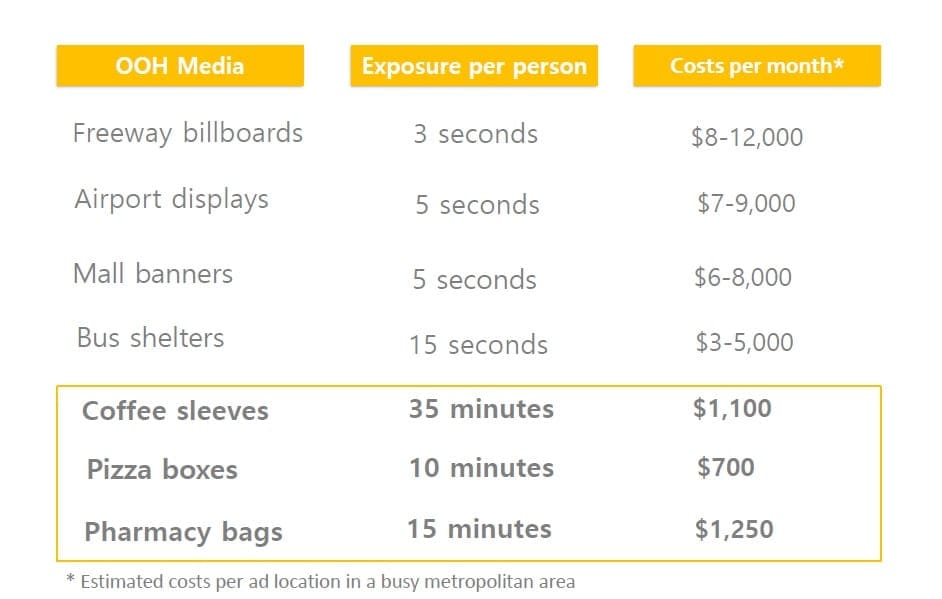 Similar to walking billboards, in-the-hand advertisement is cheap compared to other OOH avenues like digital billboards. In-the-hand advertising utilizes simple media like placemats, coffee sleeves, and bar coasters, which are all inferior to produce and to distribute.