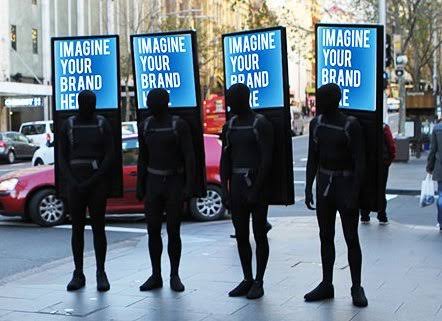 How Do Walking Billboards Compare To In-The-Hand Advertising In Terms Of Message Assimilation?
Walking billboards: learn about this new tactics.
In the advertising industry, innovation is necessary to keep ad avenues relevant. It is especially critical in the age of the internet where digital platforms are becoming increasingly the most preferred ad avenues. Interestingly, out-of-home (OOH) advertising continues to grow due to innovations like walking billboards and digital billboards.
Out-of-home advertising is growing faster than TV
Billboards are among the oldest advertising platforms alongside newspapers. Nonetheless, the internet revolution threatened to sweep away traditional advertisement platforms and to render them ineffective. In a sense, the revolution is happening. According to eMarketer, digital ad spending in the US could soon surpass TV ad spending, the declining king of the advertisement industry.
Interestingly, not all traditional ad platforms are falling out of favor. Out-of-home (OOH) advertising is one section of traditional ad media that is weathering the internet storm. Notably, OOH advertising expanded by 4.5% in 2018, despite a general decline of traditional ad media. By the end of 2018, OOH had recorded growth for 35 consecutive quarters. Further, the internet as an avenue for advertisement grew by 15% in 2018, followed by OOH at 3.1%, 1.8% for TV, and 1.2% for radio. Unfortunately, newspapers as advertisement media contracted by 6.8% and by -72% for magazines.
The resilience of OOH is the introduction of digital OOH advertising. By the end of 2018, digital out-of-home represented 29% of the total revenue for the OOH industry. Notably, WARC, a marketing intelligence company, expects digital OOH to grow at 10% annually between 2018 and 2021. According to WARC, the driving force for the growth is the fact that it is hard to ignore digital billboards.
Other innovations that make OOH resilient are walking billboards. Notably, this ad platform is eco-friendly and results in a close encounter that generates more engagement. Worn well, this kind of ad platform is simple and attracts much more attention.
Walking billboards vs. in-the-hand advertisement
Most walking billboards come with LED lights so that they can attract maximum attention. Further, the simplicity of the technique means that it is cheap to deploy. However, in-the-hand advertisement is superior when it comes to message assimilation. It is because it employs guerilla tactics, tactics that are unconventional and make the consumer feel ambushed. As such, there is a higher chance that the consumer will notice and assimilate the message.
Similar to walking billboards, in-the-hand advertisement is cheap compared to other OOH avenues like digital billboards. In-the-hand advertising utilizes simple media like placemats, coffee sleeves, and bar coasters, which are all inferior to produce and to distribute.