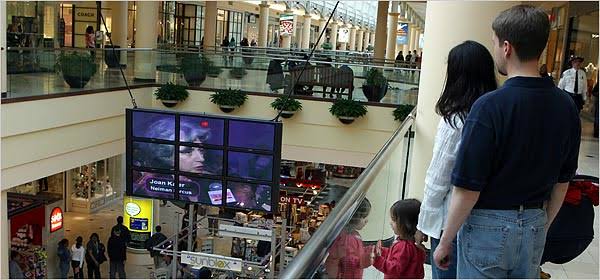 Mall Advertising: Avoid Inattentive Audiences
Consumers go to the mall with their credit cards in hand ready to buy. It offers an excellent opportunity to put your brand in front of them. A significant advantage of advertising in malls is that most of the visitors are people of means. With a little convincing, the audience can quickly turn into loyal customers.
Mall Advertising  is leveraging the rise of DOOH
Digital out of home (DOOH) advertising is coming of age. According to ToolBox Marketing, the growing adoption of 5G technology will further spur DOOH to greater heights. Notably, DOOH entails the use of digital billboards and signage for out of home (OOH) advertising campaigns.
Close to 50% of consumers that encounter ads on a DOOH sign are likely to engage with the ad on a mobile phone, ToolBox marketing data shows. The incredible significance of DOOH as the next big thing in OOH advertising is evident in the immense growth of the sector. In 2018, the DOOH advertising sector in the US clocked $7.4 billion, which is a record figure.
The growing popularity of DOOH will define the future of advertising in malls. In particular, the likeability of DOOH signs and billboards stems from the fact that one can hardly ignore the juicy graphics of the signs. Nevertheless, DOOH advertising has been unable to help the OOH advertising industry to surmount the problem of inattentive audiences.
The problem of inattentive audiences
Inattentiveness is a significant problem across the world. Interestingly, several reports indicate that smartphones are to blame, even leading to an increased number of deaths on the road. For shoppers in malls, smartphones are crucial in terms of searching for information about products they would like to buy. Notably, most shoppers use smartphones in-store instead of engaging store associates. The information that shoppers look for includes product reviews as well as comparing prices before approaching retail associates.
From the preceding, it is apparent that shoppers are glued to their mobile phones most of the time. As such, they are barely aware of their surroundings including billboards and posters of businesses advertising in malls. This inattentiveness implies that the impressions generated by the advertising medium are less than optimum. Further, the few impressions affect the brand engagement rates. Ultimately, businesses are highly likely to miss their expected return on investment hence low sales and a general depreciation of business activities.