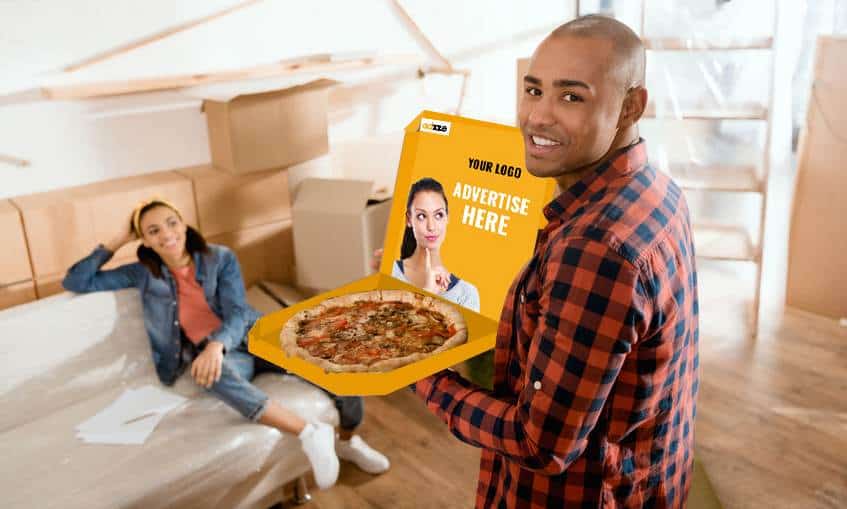 Custom Pizza Box: How To Use This Simple Method to Advertise
The COVID-19 pandemic is testing the resilience of various business models, including the advertising industry. For starters, the virus is compelling governments to stop all manner of activities and social gathering. Specifically, these measures should curtail the spread of the virus. The end game is for the virus to run its course faster so that economies can open.
Even when that happens, businesses would have suffered plenty. Interestingly, while some business models suffer, others are experiencing a boom. According to a report, there is an up swell of demand for third party food delivery services. On the one hand, Amazon is adding its delivery capacity. Similarly, restaurants have had to adjust their processes because close to 45% of their revenue comes from deliveries. Meanwhile, revenue from on premise orders is down t record levels.
In-the-hand marketing is saving the day

As businesses get hit, the advertising volume is at an all-time low. In particular, the traditional advertising media is on the decline as fewer businesses advertise. Fortunately, an alternative exists that is simpler and less expensive to implement. The alternative is pizza box advertising.
How to advertise on pizza boxes?
Using pizza boxes to advertise is an innovative tactic that seeks to reach consumers in their homes. However, it is critical that you know how it works. Firstly, a marketer prints a custom pizza box, or several of them depending on need. Secondly, the marketer distributes these pizza boxes to relevant stores for delivery to consumers.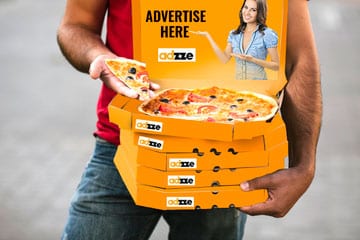 The model behind this technique is simple. What happens is that once the pizza buyer takes the box home, or picks his/her delivery, they get exposure to the message. Interestingly, this may go on for as long as the pizza box is around.
Why custom pizza box?
The first a reason a marketer should use a custom pizza box to advertise is low cost. During the pandemic, many businesses might fall out of the industry because of dwindling revenue. Particularly, the falling revenue results from invisibility. As such, they need cheaper yet effective methods of advertising. Interestingly, custom printing pizza boxes is cheap hence ideal for small businesses.
Secondly, pizza box advertising achieves more targeting rates than traditional advertising media. For example, a billboard will reach millions of people but a business may only want visibility from a few hundreds. Even then, targeting is hard because the consumers you want may not use that road. Thirdly, pizza box advertising grows brand engagement faster compared to outdoor ad media. This is because consumers interact with the pizza box at a personal level for a long time.