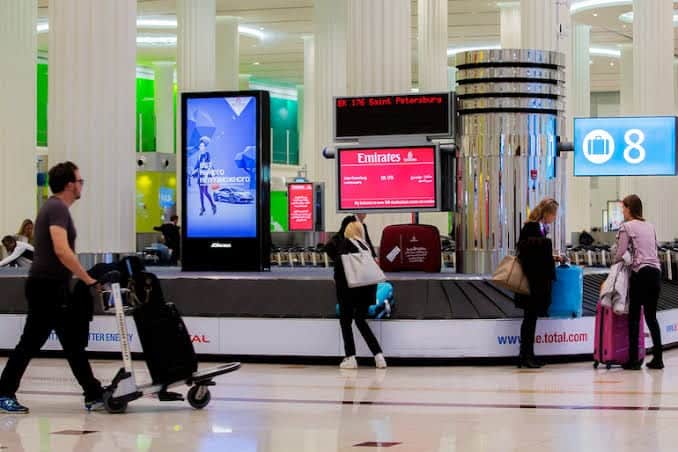 Creatively Use of Advertising Airports to Target Travelers
Advertising airports are the emerging ad spaces to target travelers.
To deliver a message on behalf of the client, an advertiser uses displays that might be static and dynamic. Notably, advertisers place the displays all around airports to capture the attention of their target group. Admittedly, advertising airports target travelers through perceiving into their minds. Usually, the marketing technique targets travelers in the terminal for flight departure or even in the baggage section.
In particular, the displays appear in a manner that needs to appeal visually and must capture the traveler's attention. Specifically, the advertisement aims to reach the affluent audience who are always in thought to buy something. Indeed, studies show that 85% of passengers like exposure to new forms of products and advertisements. As such, airports buses and parking lots shuttles provide spaces for advertisement at a very competitive rate.
Oftentimes, billboards dioramas, stairways, gates, LED panels and plasma panels, and luggage carrying carts make the ad displays. Interestingly, the ad displays offer an uninterrupted visibility for the brands they are selling. As such, advertisers are able to save costs by not spending more on new displays every often.
In the new scenario of the changing world, charging and phone centers are high traffic spots that offer advertising opportunities. Here, advertisers can promote their brands to the millions of travelers who use the airport yearly.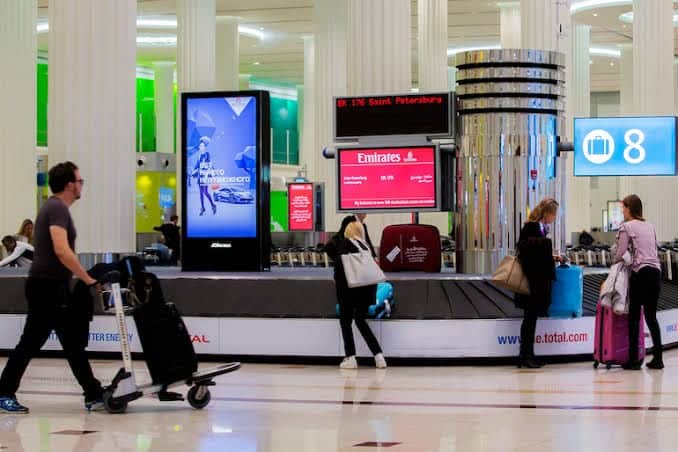 Ways of advertising airports
Billboards
Primarily, these are large digital posters. Usually, they contain animated and lit up HD graphics and visually balanced soft light. The balancing of the light ensures that it does not affect the viewer's eyesight. Specifically, the billboards target travelers in sections like the escalator, and the lobby.
Banners
With their mega billboard-like structure, they display advertisements that become a visual treat to eyes. The banners are highly visible especially to passengers in transit. For example, a passenger walking to the baggage counter cannot miss a banner displaying an ad.
Digital (TVs/ Tablet/ etc.)
It is common for airports to have large digital displays like TVs and Tablets for the purposes of showing directions. Usually, the displays use extensive and interconnected networks around the airport in areas like baggage claim areas and lobby. Particularly, this kind of advertising media enhances the visibility of ads to travelers. To this end, they use high definition graphics to deliver the content to the target audience.
Wraps and Clings
Interestingly, wraps go to any surface from walls to ceilings to elevators. This way, advertisers have a cost cost-effective means to sell their brands to target audience. They can layout messages as a promotion to various passengers both in the short term and long-term basis.
Ads on coffee sleeves
The best and the most legitimate way of advertising of a brand is by Coffee Sleeves. Notably, the medium enables advertisers to reach the maximum level of the target audience in the airport. On average, an individual can spend about 45 mins with a coffee cup. As a result, there is high exposure time and better OTS. Usually, using coffee sleeves to advertise is budget friendly compared to expensive alternatives like billboards and digital TV advertisements.
Certainly, advertisers can employ various techniques to grab the attention of their target audience through notable or appealing words.  Additionally, they can provide coupons, which indirectly calculate the reach through the redemption rate. Other In-the-Hand advertising options are placemats, trucks, door hangers, hotel key cards, shopping bags.
Bottom line
Ultimately, advertising at the airport offers a huge opportunity to reach affluent audiences, all thanks to globalization.  Actually, majority of the travelers through airports are people of means and whose buying impulse is high. As the usage of airport terminals continues to grow, advertisers should increase the installation of advertising displays.