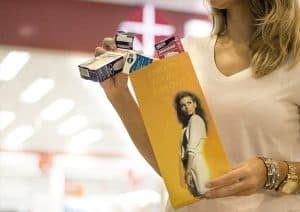 Advertising on Pharmacy Bags
Campaign reach: Pharmacy stores
Campaign time: minimum 1 month
Est. impressions: 1.5M per store/month
Expected recall rate: 40-50%
Audience demographics: Average US adult demographics
---
Bag Advertising on prescription bags is an outstanding tactic to reach
consumers with their mind in healthcare
How does it work?
Bag Advertising: your logo and message are printed on pharmacy prescription bags and distributed to the pharmacy you selected. The consumer will literally
 touch your message

 and eventually 

bring it to their home

. Bag Advertising creates additional exposure to other viewers since sometimes the consumers place the bags on their table.
Impact
The target audience immediately 
connects with your message

 as they are with their 

mind in their health

 while picking up their prescription. This provides an enhanced 

assimilation of your message

.
The bags are handled by healthcare professionals from 
reputable pharmacy chains

 providing an exceptional exposure to your brand.
An unique bag provides on average 
15 min of exposure

and extended views when the patient takes the bag home. Each pharmacy distributes on average 5,000 prescriptions bags/month, this generates an estimated 1.5M of impressions. Other In-the-Hand advertising options are Custom Coffee Sleeves, Door Hangers, Pizza Box Top, Drink Coasters, Hotel Key Cards.
Examples:
New location/opening of healthcare business: place your pharmacy bags advertising in strategic addresses to make the local community aware of the new location of your healthcare business
Awareness programs: make the audience aware of  healthcare campaigns during specific seasons e.g. flu season.
Healthy nutrition: ideal for food and beverage industry to promote their healthy product line.
Pharma and Biotech: promote your brand or new medicine targeting specific demographic profile
Sports, Wellness and Fitness centers: leverage prescription bags to promote your wellness center
Contact us to learn more about Advertising on Pharmacy Bags and to understand how this might benefit our business and clients
Request a Quote