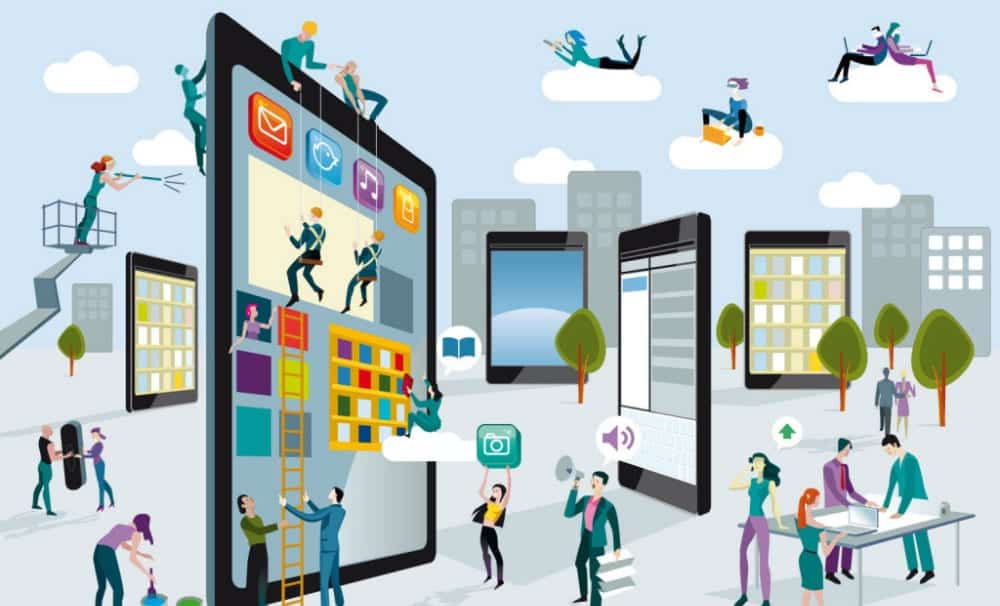 8 Advertising Trends that all Marketers Should Know
We have compiled a list of 7 advertising trends: mobile over desktop; influencer marketing; chabots; advertising with video; Facebook 360 degree; programmatic buying; and native advertising.
1. Mobile over desktop
Mobile spending on ads is expected to double desktop spending within two years  reaching $49.81bn. This is one of the emerging  advertising trends since every activity can be accessed on a mobile phone, that too on the go. This is the primary reason mobile advertising is fast surpassing ads for the desktop. It is estimated that by 2019, mobile advertising will make up about 72% of total digital advertising spending.
2. Influencer marketing
We all like to wear, imitate, and live the lives of icons we love! Brands pay famous personalities, celebrities and eminent people in their field to reach out to the target audience and 'influence' them into making purchases. Influencer marketing is quickly catching up to social media platforms where companies take services of social media celebs to endorse their brands.
3. Chatbots
Chatting apps like WhatsApp, WeChat, and Facebook Messenger have out spaced the usage of top social media platforms and emerged as one of the advertising trends. Facebook launched its customized chatbots to beat the competition. Chatbots are a great way to develop personalized interaction with the audience and all big brands are now using this technology for marketing purposes.
4. Videos
Industry experts have been quoted saying 2016 was the year of video marketing.Research shows that videos have higher engagement rates than posts with only written content. Facebook launched live videos, followed by Twitter and Instagram. Live streaming is becoming immensely popular and this allows brands to connect with their audience in real time.
5. Facebook is still the dominant platform
With 1.15 billion daily active users, Facebook is the largest social media marketing platform. For brands and marketers, it becomes essential to establish a strong foothold in this giant marketing platform. Facebook 360 degree is the latest addition to Facebook's marketing tools that advertisers can use for promoting their products.
6. Programmatic advertising
Programmatic is estimated to account for up to 80 per cent of all digital spend by 2018- Tim Elkington, the IAB's chief strategy officer
Programmatic advertising refers to the use of automated data systems that influence buying decisions without any human involvement. It is estimated that by 2017-18, all digital advertising spending will be on programmatic media buying. This article discuss the future of programmatic: Is Programmatic Buying Taking off?
7. Native advertising
Native advertising is more informative and interesting than paid advertising. All platforms, from social platforms to the publication industry are now resorting to native ads. Native advertising involves the consumer into its story which helps the consumer have a natural user experience. The Adzze article discuss the difference between content and native marketing: Native v.s. Content Marketing
8. In-the-Hand Advertising
In-the-Hand Advertising places ads on consumable goods such as dry cleaning hangers, valet tickets, coffee cup sleeves, and even pizza boxes. These ads can be considered small, moving billboards that consumers generally spend considerable more time with than other forms of traditional or non-traditional advertising.
In-the-hand advertising has the advantage of being able to reach high-end consumers by only being placed on objects such as valet tickets and dry cleaning hangers that those with higher incomes are likely to use. As a result, this form of advertising can be targeted toward a specific group of consumers and typically at a much lower cost, but with a much higher return on investment as other forms of advertising.
Conclusion
Audience tracking tools can enable marketers to determine the needs and preferences of its target audience. Businesses should keep up to date with the hottest trends in digital marketing and design ad campaigns that generate a direct response from the customers.